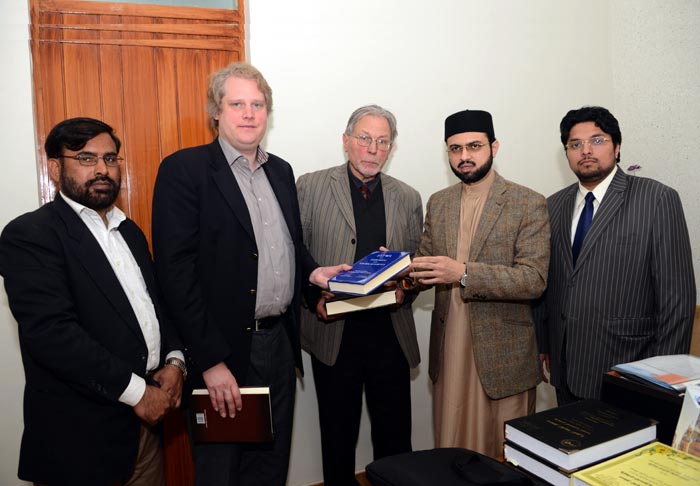 Renowned Christian scholars from Germany called on Dr Hassan Mohi-ud-Din Qadri, President of MQI Supreme Council, and Dr Hussain Mohi-ud-Din Qadri, President of PAT's Federal Council, in the central secretariat in Lahore and exchanged views on matters of mutual interest including the measures to promote Muslim-Christian dialogue and interfaith harmony. Director of Interfaith Relations Sohail Ahmad Raza was also present at the occasion.
While talking to the MQI leadership, German scholar Dr Christian Troll said that both Islam and Christianity could play an effective role to promote interfaith harmony and establish sustainable peace in the world. He said that we needed to enhance our mutual understanding by promoting real teachings of our great religions, adding that we could achieve this purpose by highlighting commonalities between both religions. He said that MQI's role at the global level was praiseworthy and the efforts by the MQI for promotion of interfaith dialogue and harmony were historic in nature.
Dr Thomas, in his remarks at the occasion, appreciated MQI's role in combating terrorism and extremism at intellectual and scholarly level through a consistent struggle in addition to its contribution for promotion of peaceful co-existence and harmony in the world. He said that the modern-day youths were benefiting immensely from MQI's guidance and leadership role. He said that the world needed peace the most, adding that Dr Tahir-ul-Qadri was a leader who furnished intellectual leadership for elimination of terrorism and extremism from the world.
Talking to the delegation, Dr Hassan Mohi-ud-Din Qadri said that there was a raging need to work on commonalities between our religions and civilizations. He said that bridging gulf among various religions was the duty of followers of all religions, adding that MQI's Interfaith Relations was rendering effective service to build bridges in over 90 countries of the world. He said that Dr Tahir-ul-Qadri gathered all religions and creeds together on a common platform of humanity and fostered attitudes of love, tolerance, harmony and moderation in the world. He said that Dr Qadri's role in promoting love and amity among various religions was quite important.