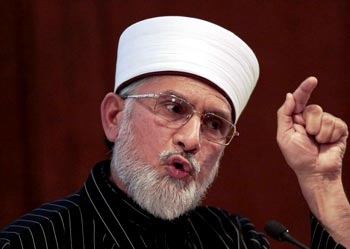 Pakistan Awmi Tehreek leader Dr Muhammad Tahir-ul-Qadri has strongly condemned bomb blasts in a train in Sibbi (Balochistan) and Islamabad fruit market in which dozens of innocent people lost their lives. He said that an end to terrorism was nowhere in sight as one incident was followed by another, adding that so-called peace dialogue with the Taliban was a façade. He said that the Pakistani had been left at the mercy of the terrorists. He said that the ruling elite remained unmoved as the people were martyred.
Dr Qadri called for a long-term anti-terror policy and its strict implementation to end scourge of terrorism which had been eating into vitals of the state and society. He asked the people to play their role in sending the current electoral system packing instead of allowing terrorists to get the better of them. He said that it was only the collective wisdom that could open the way towards progress and prosperity.
Dr Tahir-ul-Qadri prayed to Allah Almighty to rest the departed souls in peace and give patience to the bereaved families to bear the loss of their near and dear ones. He also prayed for early recovery of the injured. Meanwhile, Dr Hassan Mohi-ud-Din Qadri, Dr Hussain Mohi-ud-Din Qadri, Sheikh Zahid Fayyaz, and Khurram Nawaz Gandapur also condemned the terrorist incidents in Sibi and Islamabad and called for urgent actions to eliminate terrorism from the country.