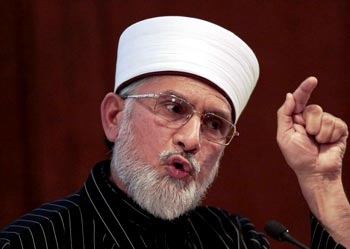 Pakistan Awami Tehreek (PAT) leader Dr Muhammad Tahir-ul-Qadri has said that he is not in favour of any mid-term elections. He clarified that PAT was not struggling for mid-term elections but for revolution, adding that the struggle had entered decisive phase. He said that current electoral system was composed unconstitutionally and consisted of corrupt people.
Dr Tahir-ul-Qadri expressed these views while talking to PAT Secretary General Khurram Nawaz Gandpur on phone from Canada. He said that PAT was opposed to current corrupt and obsolete electoral system which was based on rigging, fraud and merciless use of ill-gotten money. He said that his struggle would continue till the present electoral system was sent packing. He said that he would never talk about mid-term elections and news being spread in this regard was false and baseless.
Dr Qadri said that there was concentration of powers and resources, hooliganism, terrorism and the worst kind of authoritarianism in the country but certainly no democracy. He said that those who stole people's mandate in the name of democracy were the sworn enemies of democracy itself and the Constitution. He said that the 11th of May would herald a beginning of green revolution. He asked the people to come out of their homes against corrupt system and those manning it.