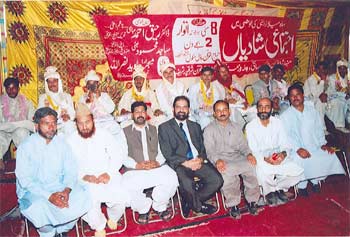 It`s a tragic for Pakistani people to be incapable to perform such a sacred obligation like marriages of their daughters. Pest, like dowry has made the whole nation unable to get the daughters married. Daughters of EVE remain unmarried due to having no abundance of dowry. On one hand, the riches spend their money lavishly on their feasts and many other such activities; and on other hand, the daughters of the poor are still bachelors are reaching their old age owing to lack of resources to get married. Minhaj Welfare Society is striving against this pest evil by putting its efforts in the form of arranging the collective marriages. Regarding this, on the 8th of May, collective marriages were arranged under the Welfare Society Sharqpur Sharif Sheikhupura.
A few days before the programme started, Mr. Shamim Ahmad Khan and Mr. Sajid Bhatti held a meeting with the Tanzeemat of Sharqpur Sharif and finalized the arrangements. On the day of marriage, the bride was given complete Dowry. For 100 guests of both bride and groom were given the meal. The programme was arranged in such a manner that neither the bride nor her family felt sense of deprivation. The central Nazim-e-Ala of Minhaj ul Qur`an International Mr. Raheeq Ahmad Abbasi and Mr. Sajid Bhatti, Deputy Director Minhaj Welfare Foundation, participated in this programme as a chief guest; whereas Nazim Tehsil Ferozwala Mr. Major (R) Jawaid Nasrullah and Mr. Mian Marghoob Ahmad Sheir Rabbani (May Allah Bless on him) Astana Aliya Sharqpur Sharif especially participated. In this Collective Celebration, 13 poor girls were married. Whereas one of these 13 families belonged to Christianity. Respectable Priest Mr. Rashid Shams Maseeh perform the duty of Nikah of the girl who belonged to Christian family. Whereas respectable Mr. Qari Ahmad Hassan performed the duty of Nikah of other Muslim girls. While addressing the people on this occasion, Mr. Raheeq Ahmad Abbasi said, according to the saying of The Holy Prophet (SAWW), one is the best amongst of the people who is functional for other people. The standard of the world of being good and bad is incomparable with humanitarianism. We are supposed to make motive struggles for the service and betterment of the poor with more enthusiasm and spirit and an organized manners.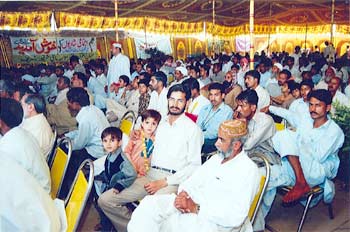 Major (R) Mr. Jawaid, Tehsil Nazim Ferozewala said on this occasion, "I have felt a great pleasure to attend this programme arranged by Minhaj Welfare Society. I am thankful to the Society who gave me such a precious opportunity to attend this programme. Our masses are ready to give their donations wholeheartedly for such programme. The need of the time is that we must believe in the one whom the donations are given. In such a way as the local community has cooperated Minhaj Welfare Society is demonstrating the sign of their full belief in this programme and its leadership".
Mr. Sajid Bhatti, Deputy Director Minhaj Welfare Society congratulated the organizing committee and briefly shed light on the introduction of Welfare Society and presented the report. A large number of highly respected people of local area including Sheikh Manzoor Ahmad Nazim Union Council Sharqpur Sharif, Mr. Rafiq Minority Councilor, Mr. Haji Muhammad Ilyas, social leader, Mr. Malik Husain Ali Noorka, Mr. Sheikh Riaz Ahmad Kabli, Miss Shakeela Chauhan Tehsil Councilor, Begum Salma Jawaid, Begum Nasim Mustafa, Begum Samina Asif and Madam Tahirah Jamil, participated in this programme. While addressing the people Mr. Rashid Shams (Christian Leader) said, before this programme, the people of Minority had no good views about religious parties but Minhaj ul Qur`an has removed all our such thinkings from our minds by invite us and giving significance in this programme.
Respected Dr. Raheeq Ahmad Abbasi presented the gifts cash which were given by Qaid-e-Inqilab Professor Dr. Muhammad Tahir ul Qadri to brides and grooms. Mr. Chaudhry Muhammad Rafee Raza, Mr. Muhammad Arshad Gondal Tehsil Nazim, Mr. Sheikh Jawaid Naib (Deputy) UC Sharqpur Sharif, Mr. Akhtar Ali Malik, Mr. Sheikh Abdul Mustafa, Mr. Malik Amjad Jawaid (DPO), Mr. Arshad (DPO), Mr. Muhammad Naeem (DPO). Mr. Waseem Sattar Sheikh (DPO), Mr. Haji Munir Ahmad, Mr. Muhammad Aslam Tahir, President Mureedkay, Madam Sajidah Raza (Lady Councilor) principal MMS, Baji Kauthar Perveen Lady Councilor, staff MMS, staff MPS and Begum Farah Akhtar made great efforts from dawn to dusk to make this programme successful. In the end, a meeting was held with administration. In which respectable Dr. Raheeq Ahamd Abbasi and Mr. Sajid Mehmood Bhatti congratulated all the people. On this occasion, respectable Nazim-e-Ala Dr. Raheeq Ahmad Abbasi declared Sanad-e-Husan-e-Karkardagi for the Tanzeemat of Tehsil Ferozwala for arranging such a well managed programme. The Tanzeemat of Tehsil declared to organize for 30 marriages in the next year.
In the last hours of the programme, the local community and the parents of the brides thanked Minhaj Welfare Society and the services of Qaid-e-Inqilab Professor Dr. Muhammad Tahir ul Qadri and sending special gifts.
Translated by: Shahid Hamid Gill