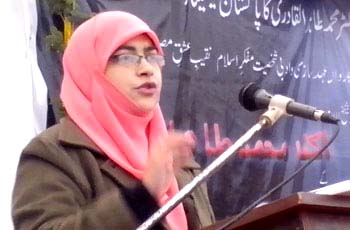 PAT Women Wing President Ms. Razia Naveed has held the governments of Sindh and Punjab responsible for the deaths of innocent children in Tharparker and Sargodha due to shortage of food and medicine. She said that terrorists are involved in killing of schoolchildren in Peshawar. She said that as if electricity crisis was not enough, the load-shedding of gas has added to people's problems. She said that women are having trouble in cooking while the factories are being shut due to shortage of gas. She said that the federal and Punjab governments have failed to resolve this crisis.
Ms. Razia Naveed expressed these views while addressing a consultative meeting of PAT Women Wing yesterday. Women leaders such as Gulshan Irshad, Ifnan Baber, Qurat-ul-Ain Fatima, Nabeela Yousaf and others were present on the occasion.
The meeting adopted a unanimous resolution urging the government to end the gas load-shedding forthwith and exempt the months of January and February from load-shedding of electricity as well so that some kind of relief could be provided to the people in this intense and harsh weather. It also asked the government to control escalating prices of LPG.
Ms. Razia Naveed expressed her serious concern on the consistently high level of price hike despite reduction in prices of petroleum products. She said that providing relief to the masses does not figure anywhere on the agenda of rulers. She said that corruption is eating into vitals of state and society and no anti-corruption effort seems to be underway to curb this menace. She said that anti-poor policies are snatching from them their right to living. She said that selfishness of the ruling elite is at the heart of the national crises. She said that the country continues to be harmed by militancy and terrorism, whereas the problems of the people remain the same. She said that the rulers have not acted upon their electoral promises with the result that energy crisis is taking a heavy toll on the country's economy.
The meeting of consultative council advised the members of implementation committee of national action plan to go through 600-page document of Dr Tahir-ul-Qadri against terrorism if they were really serious about eliminating this menace from the country.