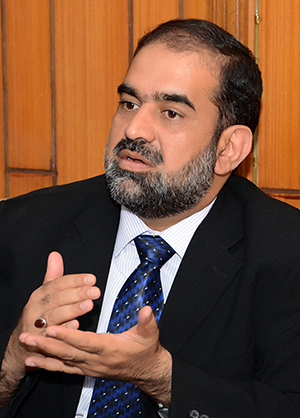 President of central Milad Committee Dr Raheeq Ahmad Abbasi has said that 31st annual Mawlid-un-Nabi Conference (SAW) will be held at Minar-e-Paksitan on January 03 (Saturday) on the intervening night of 11th and 12th Rabi-ul-Awal as per schedule. The MQI workers have rejected the fear of terrorism, biting cold and intense fog and decided to hold the annual Conference 2015 at the historic Minar-e-Pakistan. PAT chief Dr Tahir-ul-Qadri has commended the commitment and devotion of the workers and congratulated them on this. He termed this decision to be reflective of their unwavering love of the person of the Holy Prophet (SAW). The birth of the Holy Prophet (SAW) is the greatest happiness in the universe and we should go out of way to celebrate this blessed occasion befittingly.
Dr Raheeq Abbasi expressed these views while addressing the members of the administrative committees established to make arrangements for International Mawlid-un-Nabi Conference (SAW). Khurram Nawaz Gandapur, Jawad Hamid, Sajid Bhatti, Haji Manzoor, Shahzad Rasool, Sohail Raza, Irshad Tahir and Hafiz Ghulam Farid were also present on the occasion.
Dr Abbasi said that we can act upon the Islam teachings in the real sense only when we strengthen our bond with the person of the holy Prophet (SAW) and the best time to achieve this objective is the blessed month of Rabi-ul-Awal. He said that Rabi-ul-Awal is the month which liberated the world from the darkness and placed it the light. He said that we should express our love, gratitude and festivity in this month in particular. He asked the people of Lahore to attend the Mawlid-un-Nabi Conference by reciting Durood sharif in groups. He asked the residents of Lahore to attend the spiritual gathering in their large numbers and tell the world that Pakistanis and Muslims are peaceful people. He said that Mawlid-un-Nabi Conference (SAW) will be attended by renowned religious scholars, Naat Khawans, and segments of all walks of life.