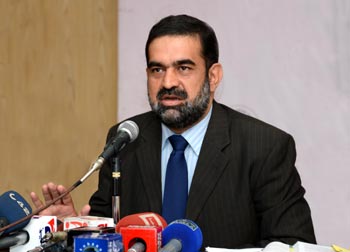 The Central Working Council of Pakistan Awami Tehreek, in an emergency meeting held here today in Model Town, rejected JUI-F chief Maulana Fazal-ur-Rehman's point of view about the 21st Constitutional Amendment. It asked the Maulana to stop extending direct and indirect support to terrorists and militants. It said that war against terrorism is a war to save Pakistan and Islam and future of the country and our succeeding generations is associated with the outcome of this war.
The CWC meeting was held under the chairmanship of central PAT President Dr Raheeq Ahmad Abbasi. GM Malik, Sajid Bhatti, Jawad Hamid, Qazi Faiz, Razia Naveed, Amjad Ali Shah and Muhammad Noorullah were also present on the occasion.
Addressing the meeting, Dr Raheeq Abbasi said that time to hold those accountable who have been using Pakistan's colleges, schools, seminaries and universities in the name of religion has come. He said that we would not let the so-called champions of Islam play with the destiny of the nation anymore. He asked the federal government to end discrepancy between its actions and words on the matter of eliminating terrorism. He said that on the one hand, the statements are being issued reflecting a resolve to end terrorism and on the other those threatening the state are being mollycoddled.
Dr Abbasi said that the Prime Minister should have open and frank discussion with Maulana Fazal-ur-Rehman and if he does not withdraw his support of militants and terrorists, the PM should throw his party out of the cabinet. He also asked the Punjab Chief Minister to shun double standards, saying that on the one hand, he moves petitions against those undergoing trial on the charge of killing 100 people but extends financial support to them on the other. He said that the nation would not bear any double standards and hypocrisy of rulers on the matter of war against terrorism.
The PAT President said that there should be clear legislation about religious seminaries. He said that their curriculum should be revised and all sources of foreign funding should be banned. He, however, warned against punitive action against any religious seminary engaged in imparting religious education without having anything to do with terrorism, adding that PAT and Dr Tahir-ul-Qadri will be out on the roads first of all in that case.