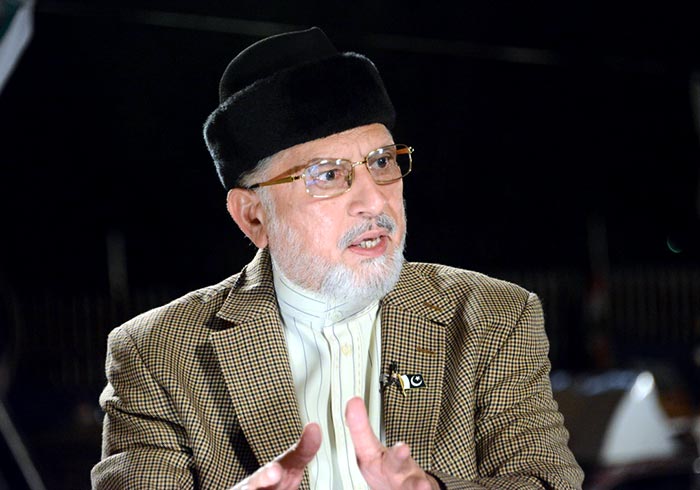 PAT chief Dr Muhammad Tahir-ul-Qadri has said that the rulers are working on the agenda of sabotaging Nation Action Plan (NAP) against terrorism and defaming the state institutions. He said that the rulers, who are expert in terrorism, are trying to frustrate the National Action Plan by using police, which is adept in perpetrating terrorism. He said that national solidarity and ongoing war against terrorism is being damaged through indiscriminate mass arrests by invoking laws and ordinances that were promulgated well before the establishment of Pakistan. He said that no issue can be resolved in the presence of incompetent rulers.
Dr Tahir-ul-Qadri expressed these views while talking to various delegations and distinguished social personalities of Pakistan that called on him at his residence in Madina city. He said that over 50,000 lives were lost to hundreds of incidents of terrorism in addition to staggering loss to economy running into a one hundred billion dollars but the rulers and Parliament could not enact requisite legislation to eliminate terrorism. He said that arrests are being made under Foreigners Act 1946 and Criminal Procedure of 1898, which is a joke with the nation and tantamount to supporting terrorists. He said that the society is being pushed into a clash under a plan by dropping the hint of banning peace-loving religious scholars and peace promoting books so that the National Action Plan does not get implemented according to its spirit.
Dr Tahir-ul-Qadri said that he had informed the Army Chief in advance that politicking has begun on thwarting war against terrorism and establishment of military courts and there is a hand of rulers behind every conspiracy. He said that the Punjab government is ahead of the rest in seeing the National Action Plan fail. He said that jails are being filled through mass arrests over the violation of Sound System Act and the impression being given is that the police have arrested terrorists in large number but the courts are not conducting their trial.
Dr Qadri said that securing life and property of people including students and educational institutions is the foremost responsibility of the government but the rulers are transferring this responsibility on to children, teachers and school staff. He said that the rulers are busy promoting fear through their actions instead of eliminating it. He said that had security of people's life been top priority of the government, it would have enacted clear laws and increased the number of security institutions according to requirement.