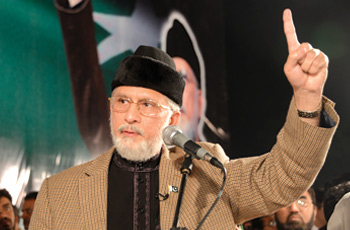 PAT chief Dr Muhammad Tahir-ul-Qadri has said that there is a need to create unity not animosities in our ranks to liberate Karachi, Pakistani's economic life-line, from the clutches of terrorists. He said that the residents of Karachi have suffered many a wound and it is now up to the Chief of the Army Staff Gen. Raheel Sharif to put a balm on those wounds. He said that time for decisive action instead of traditional meetings has come, adding that the cancer of terrorism has eaten into vitals of the state and society. He said that the people of Pakistan look at the armed forces as the last ray of hope in fight against terrorism. He further said that strict watch should also be kept on the Sharifs who can swing to any side for petty political interests.
Talking to central media cell from Makkah, Dr Tahir-ul-Qadri said that the military should extend the war on terror to every street and city of the country. He said that Peshawar, Model Town and Baldia Town tragedies should be taken as a test case and these cases should be heard by a military court. He said that the rulers' bad governance and anti-people policies are affecting the National Action Plan against terrorism, adding that imposition of new taxes to the tune of Rs. 200 billion represents economic terrorism and anti-people policies of the government; so much so the chocolates of children have been taxed too.
Dr Tahir-ul-Qadri said that Parliament has become a graveyard of living people. Otherwise the rulers would not have dared to fleece the already hike-stricken people. He said that relief afforded by reduction in POL prices has been snatched by imposition of enhanced GST at the rate of 27% instead of 17%. He said that it is IMF which is dictating terms and running the country's economy. He said that increase in foreign debt liabilities is the only economic policy of the rulers. He said that had there been rule of law and the Constitution in the country, there would have been no mini budgets every month after the announcement of real budget in June. He said that price hike and unemployment is pushing the educated but unemployed youth towards extremism and terrorism and the rulers are helping the process through their ill-thought-through anti-people economic policies.
Dr Tahir-ul-Qadri said that the Model Town tragedy is a blot on the face of the current rulers. He said that unless the victims of Model Town tragedy get justice, the doors on the state terrorism would not be shut. He said that PAT office holders at every level will be elected and the process of internal party elections continues with full fanfare. He said that after the elections, PAT would emerge as a strong political force in the country.