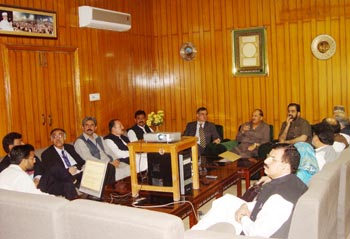 Reported by: M S Pakistani
Translated by: Amanat Ali Chaudhary

A delegation of National Management College visited the Central Secretariat of Minhaj-ul-Quran International on April 2, 2008. The 11-member delegation comprised of officers of Senior Management Wing led by Faculty Head Muhammad Ashfaque Khattak. The other members included Rab Nawaz of District Management Group, economist and planner Zia-ud-Din Azhar, Sayed Muhammad Junaid Shah, Dr Shahnaz Rozina Abid, Dr Sohail Khan of Foreign Service of Pakistan, Dr Umer Baber Khan of Govt. of Baluchistan, Faisal Ismail of Pakistan Audit and Accounts Service and Sohail Tanvir Saddique of Secretariat Group. The delegation undertook visit of MQI, Minhaj University and Minhaj Education Society. The purpose of this visit was to review the organizational structure of Minhaj-ul-Quran International.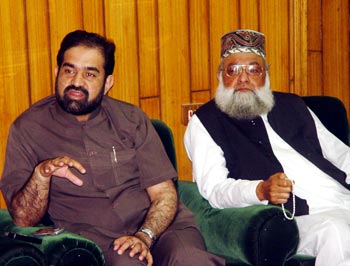 Nazim-e-Ala of MQI Dr Raheeq Ahmad Abbasi received the guests upon their arrival at the Secretariat along with other leaders. In this sitting Amir-e-Tehreek Miskin Faiz-ur-Rahman Durrani, Naib Amir-e-Tehreek Brig. (r ) Iqbal Ahmad Khan, Director Foreign Affairs G.M. Malik, Abdul Wahid Butt, Javed Iqbal Qadri, Sahibzada Muhammad Hussain Azad, Sohail Ahmad Raza of PAT and other heads of the departments were also present there. Brig. (r ) Iqbal Ahmad gave a detailed briefing to the delegation about the organizational structure of Minhaj-ul-Quran International, which is spread over the whole world. He told them that MQI was working in more than hundred countries of the world for the spread of Islam and establishment of international peace. Shaykh-ul-Islam Dr Muhammad Tahir-ul-Qadri established Islamic Centres in almost all countries of the world, which provide relief and help to the Pakistani Community in addition to preaching Islam. Similar centres were also working within the country for the purpose of spread of faith and actual teachings of Islam. The organization of MQI exists in every area and region of Pakistan. MQI is a distinguished religious organization in this regard. The delegation also took part in question and answer session after this briefing was over. Central Amir Miskin Faiz-ur-Rehman Durrani and Dr Raheeq Ahmad Abbasi gave satisfactory answers to all their questions.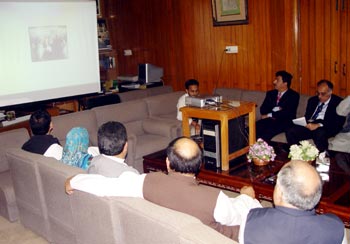 The delegation also visited various branches and departments of MQI, which include Directorate of Foreign Affairs, central Sale Centre, Finance department etc. The delegation was also briefed about the office management here. The members of delegation took keen interest in the books of Shaykh-ul-Islam Dr Muhammad Tahir-ul-Qadri. They were shown books of Shaykh-ul-Islam on economy. They also visited the Minhaj Production Unit where they observed the CD-making process.

During their visit to the Minhaj Education Society, they were informed that more than 600 educational institutions of various types were operating under MES throughout Pakistan. In addition to the prevalent syllabus, the additional syllabus of Minhaj-ul-Quran is taught to students aimed at polishing their creative capabilities. Brig. (r ) Iqbal Ahmad gave a detailed briefing to the delegation about MES.

The Principal of COSIS Dr Raheeq Ahmad Abbasi and Coordinator Mian Muhammad Abbas Naqshbandi gave comprehensive briefing to the delegation during their visit to Minhaj University. The delegation also visited various departments of the University. Principal Dr Abbasi also gave memorial shield to the delegation at this occasion. A delicious lunch was arranged in the Principal's office at the conclusion of the visit. All the respected guests appreciated the effective organizational structure of MQI. The head of delegation Muhammad Ashfaque Khattak paid tribute to Shaykh-ul-Islam Dr Muhammad Tahir-ul-Qadri upon establishment of such a vast and comprehensive organizational network. Nazim-e-Ala Dr Raheeq Ahmad Abbasi saw off the delegation at the end.