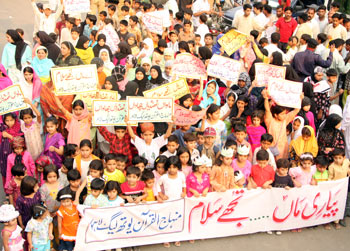 Reported by: M S Pakistani
Translated by: Amanat Ali Chaudhary
On May 11, 2008 Minhaj Youth League organized a walk of children in front of the Lahore Press Club in order to mark International Mother Day. The walk started at 4 p.m. in which children from across different schools of Lahore participated. The children collectively led the walk and took a round of the Lahore Press Club. They were bearing a huge banner on which was written: "Saluting you, dear Mother". The participants were also carrying small placards bearing different slogans to highlight place of mother. Some children also carried placards in English with slogan like 'Mother is great', 'Happy Mother Day' written on them.

The parents of children were also present at the occasion to see their children walk. A large number of citizens also gathered at the Lahore Press Club to see the sight of small children registering their love for such a loveable personality as mother. The children gave a special pose to the media after the conclusion of the walk. One of the children delivered an emotional speech about the greatness of mother at this occasion. Other children expressed their emotions by raising slogans. Nazim of MYL Sajid Mahmood Bhatti and Nazim Media Dr Shahid Mahmood and leaders of Minhaj Women League were also present for the supervision of the walk. The walk concluded with Dua for the security and safety of Pakistan.