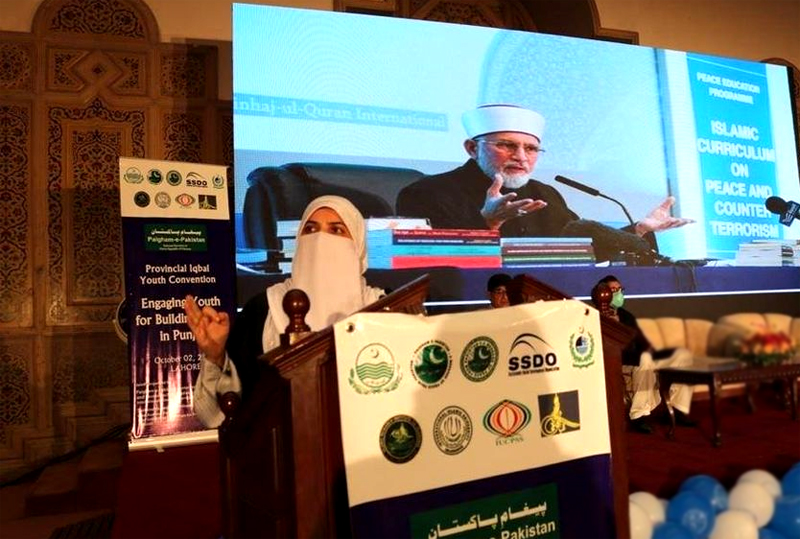 President Minhaj Women League, Pakistan, Mrs. Farah Naz was invited as a guest speaker along with Senator Walid Iqbal, Qasim Ali Shah, MPA Ali Gillani, Mansoor Qazi, AIG CTD, Punjab Rai Tahir, and Provincial Youth Minister Punjab Taimoor Bhatti at "Provincial Iqbal Youth Convention" today.
On this occasion, Mrs. Farah Naz presented a comprehensive plan of action to practically engage the youth towards peace promotion. She presented the peace model of Shaykh-ul-Islam Dr. Muhammad Tahir-ul-Qadri and shared practical recommendations for the government to disseminate the peace initiative among people by focusing on family units.
Mrs. Farah Naz recommended the establishment of a separate ministry for peace and counter-terrorism in order to give primacy and policy focus to the peace projects. She said that it is high time we started focusing on the training and counseling of mothers so that they become nurseries of peaceful generation.
Talking further, Mrs. Farah said that under the aegis of this ministry, the government should announce degree programs and diploma courses in peace and counterterrorism studies. She also suggested that Peace Research Centers should be set up to invite researches and academics to pool in their intellectual efforts in developing a peaceful narrative for the outside world.
Her recommendations were greatly appreciated by the worthy guests.