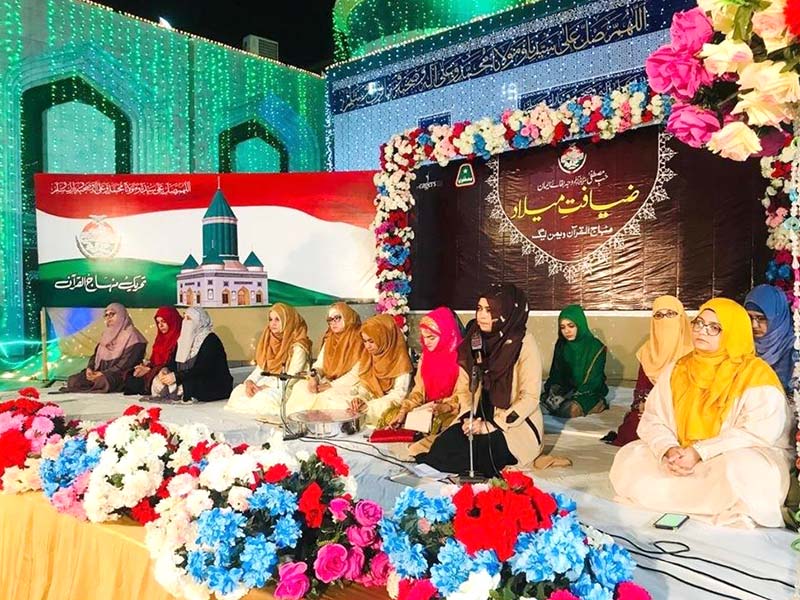 A Milad feast was arranged under the banner of Minhaj-ul-Quran Women League at the central secretariat in connection with the Rabi-ul-Awwal festivities. Addressing the participants of the event, MWL Pakistan President Mrs. Farah Naz said every happiness is inferior to the happiness of Mawlid-un-Nabi (pbuh). She said our faith is incomplete without the love of the Holy Prophet (pbuh), stating that this devotional love is the spirit of life.
MWL President said that the scholars belonging to MWL are delivering their lectures on the life and personality of the Holy Prophet (pbuh) in cities and villages. She said that the candles of the love of the Holy Prophet (pbuh) are being lighted in the households due to educational, propagative role, and Dawa of MWL. She said there is hardly a platform in Pakistan from which abuses, taunts, and reprimands are not being exchanged. She said the situation has deteriorated to such an extent that people's religious beliefs are being openly questioned.
Mrs. Farah Naz said that in such a fraught environment, it is MQI under the leadership of Shaykh-ul-Islam Dr Muhammad Tahir-ul-Qadri that is working hard for the promotion of interfaith dialogue, harmony, and peace not only in Pakistan but also in over 100 countries of the world. She said MQI's message is one of inclusion and togetherness. She said MQI advocates unity and shuns sectarianism.
Nazim Ms. Sidra Karamat presented the welcome address and informed the participants of the Milad feast about the educational, moral, and spiritual initiatives that MWL has launched across the country. She invited the honorable guests to join the faithful at International Mawlid-un-Nabi (pbuh) Conference to be held at Minar-e-Pakistan on the night of the 12th Rabi-ul-Awwal. She said Shaykh-ul-Islam Dr Muhammad Tahir-ul-Qadri will deliver his keynote address at the Conference.
The principal of Minhaj College for Women Dr Samar Fatima, Dr Noshaba, Dr Shahida, Ayesha Mubashir, Umme Habiba Ismail, Anila Dogar, Irshad Iqbal, Rafia Urooj Malik, Umme Kalsoom Tufail, and a large number of women were present at the feast. The proceedings of the program started with the recitation of the Holy Quran followed by Naat that Sidra Anwar, Munazza Sajid, and Noreena Imtiaz had the honour to recite.
The Milad feast came to an end with the Dua for peace, progress, and prosperity of the country.