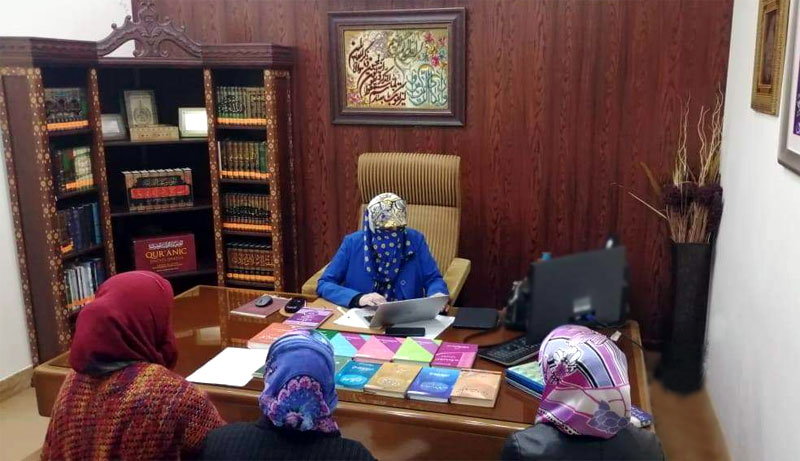 The female scholars of Farid-e-Millat Research Institute (FMRi) held a meeting with Dr Ghazala Hassan Qadri, President of Minhaj-ul-Quran Women League International. The meeting was attended by Mrs. Fareeda Sajjad, Tayyiba Kausar, and Sahar Ghani.
Mrs. Fareeda Sajjad presented 13 books published so far as part of the Islamic teachings series to the President of MWL and briefed her about the overall working of the department. Dr Ghazala was also informed of the distribution of work as well as newly published books on the occasion of International Mawlid-un-Nabi (pbuh) Conference in the meeting that continued for more than two hours. The participants also exchanged views on the two ongoing projects.
The female scholars individually presented their reports. Dr Ghalaza Hassan Qadri appreciated the wonderful performance of the women's department of the FMRi and gave the instructions regarding the ongoing research projects. She also shared her useful experience with the scholars in the national and international contexts.
Speaking on the occasion, President MWL International said that the real concept of women empowerment lies in equipping the women with the demands of contemporary sciences, education and research. She said Shaykh-ul-Islam Dr Muhammad Tahir-ul-Qadri has fulfilled the training, educational and intellectual needs of women in a befitting manner. She said there is no department, forum, or institution of MQI in which women are not playing their due religious, research, and reformative role.
Dr Ghazala Hassan Qadri said that it is a matter of great satisfaction that women scholars are contributing their share to research as part of reforming the society under Farid-e-Millat Research Institute. She said that it is the serious steps and initiatives taken by MQI for women empowerment that distinguish it from other organizations and movements.