On the occasion of International Women's Day, an international Women's Conference was organized under the banner of Minhaj-ul-Quran Women League (MWL) at the central secretariat, Model Town. Shaykh-ul-Islam Dr Muhammad Tahir-ul-Qadri delivered a special address to the participants of the conference.
While addressing the conference, Shaykh-ul-Islam Dr Muhammad Tahir-ul-Qadri explained the concept of equal status of women and men in Islam. He said that woman in a relationship whether she is a daughter, a mother, a sister, or a wife provides stability to the household. She is a symbol of peace, selfless love, and mercy. He also explained that Hadith in which Prophet Muhammad (PBUH) chose daughter over son.
Dr Tahir-ul-Qadri said that actual women empowerment will be achieved when women get all the rights given to her by Islam.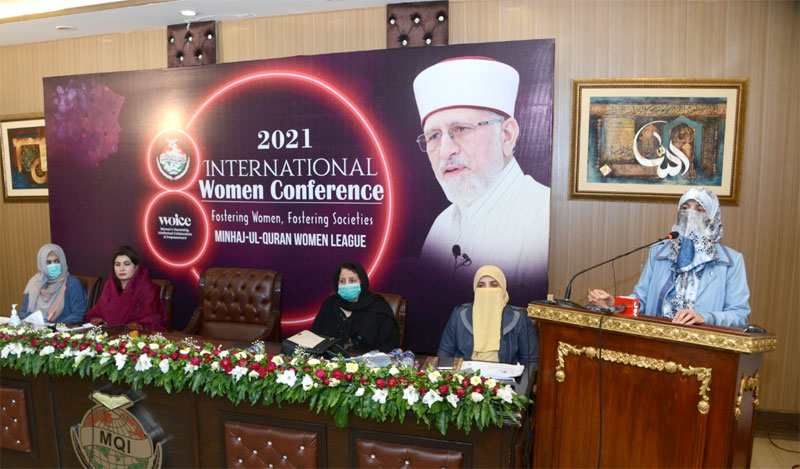 President MWL International Dr Ghazala Hassan Qadri presided over the conference. While talking to the participants, she thanked Shaykh-ul-Islam Dr Muhammad Tahir-ul-Qadri for giving an ideological narrative and making women feel confident and empowered. She said that Dr Qadri has given us the purpose of our lives and continues to guide and empower us to realise our potential.
Dr Ghazala Hassan Qadri said that we are so blessed that we have a guide and mentor in Shaykh-ul-Islam Dr Muhammad Tahir-ul-Qadri and have platforms in the form of Minhaj-ul-Quran Women League, Minhaj Sisters League, and MSM, institutions that have been at the forefront of efforts to make women aware of their rights in Islam.
Later on, President MWL Pakistan presented the narrative of MWL at the conference. She said if we want to empower our women, we have to take our men along with us by making them part of journey through greater awareness.
Various renowned religious, and political personalities, social activists and women rights defenders attended the conference. Overseas chapters of MQI from across the twenty countries also participated in the conference virtually and presented the narrative to cater to the challenges being faced by Muslim women in the West these days.