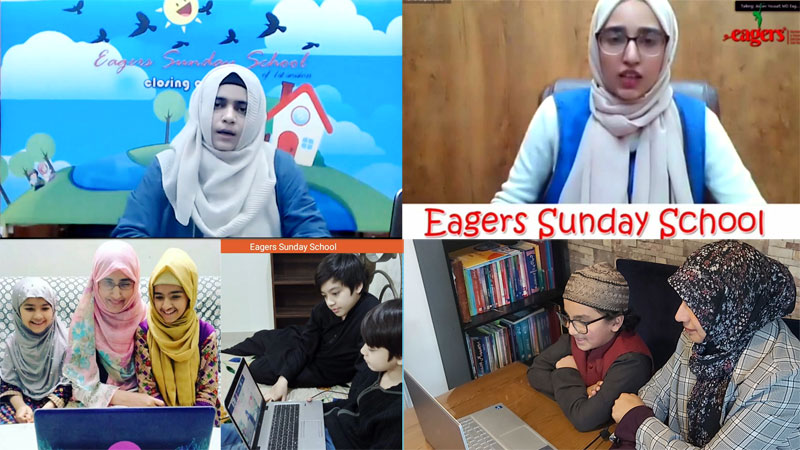 Team Eagers concluded the first online Eagers Sunday School. Secretary-General MWL Pakistan, Miss Sidra Karamat was the chief guest and keynote speaker of the ceremony. In her speech, she gave parenting advice on how to bring up children in a responsible manner. Team Eagers received immense and most encouraging responses from the parents at the closing ceremony of Eagers Sunday School online (Session 1) this past Sunday. Hundreds of children along with their parents attended the ceremony from different parts of the world including Pakistan, shared their exciting feedback, and showed great enthusiasm for the next term.
The adoption of non-traditional, activity-based teaching methodology, has made "Eagers Sunday School" a big success. The project holds uniqueness of its own as it is based on a beautiful combination of Islamic values and modern sciences. The basic aim of the project is to deal with the ideological and moral crises that our new generations are facing. Due to the Covid-19, the Eagers team shifted the event online and 150 children from Pakistan, Qatar, Holland, UK, Italy, Saudi Arabia, South Africa, Oman, Germany, and the Netherlands got themselves registered for participation.
The first online term was on the time period of four months. The contents delivered by the trainers included Hadith memorization, ethical learning in the light of Prophet Muhammad's (pbuh) seerah, Fiqh with scientific benefits, physical exercises, and Urdu & Persian literature.
In order to ensure the quality of delivery, the project team used different learning techniques such as group interactions, innovation, visualization, soft speaking, warm welcoming, and the policy of consent and encouragement.
At the conclusion of the ceremony, Ms. Sidra Karamat appreciated Team Eagers, especially Miss Umme Kulsoom, as the project manager, Director Eagers Aimen Yousaf, and other members of the team who went beyond the call of duty to make the event a resounding success.