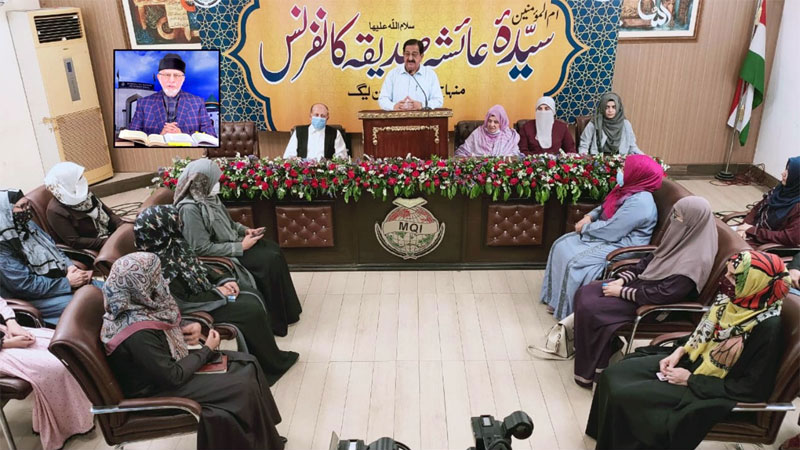 Addressing Sayyida Ayesha Siddiqa (ra) Conference held under the banner of Minhaj-ul-Quran Women League through audio link, Minhaj-ul-Quran International (MQI) founding-leader Shaykh-ul-Islam Dr Muhammad Tahir-ul-Qadri has said that the chamber of the mother of the believers, Sayyida Ayesha Siddiqa (ra), was the first school of Hadith and Sunnah dedicated to the spread of religious sciences. She (ra) was excellent example in herself in piety, Godwariness, and the service of Islam. Her station in terms of knowledge was way higher than many Companions of the Holy Prophet (pbuh). If one gathers all the knowledge of the pious wives of the Holy Prophet (pbuh) and female Companion-scholars, her knowledge is far superior to that of others.
Brig. (r) Iqbal Ahmad Khan, Khurram Nawaz Gandapur, Mrs. Farah Naz, Ms. Sidra Karamat, Ms. Umme Habiba Ismail, Mrs. Ayesha Mubahsir and others also spoke on the occasion. They paid rich tributes to Hazrat Ayesha Siddiqa (ra) for her role in the promotion of the Islamic teachings.
Shaykh-ul-Islam Dr Muhammad Tahir-ul-Qadri said in his keynote address that Sayyida Ayesha Siddiqa (ra) would resort to Ijtihad (reconstruction) in Islamic thought and would often be consulted for a decree on various matters. A number of students benefited from her vast knowledge with Hazrat Urwah bin Zubayr (ra) and Qasim bin Muhammad bin Abi Bakr (ra) being most prominent among them all.
Dr Tahir-ul-Qadri said that whenever anyone was confronted with any scholarly issue, he/she would present him-/herself in her court and get satisfactory answers to his/her queries. He said that those students who benefited from her knowledge and scholarship number about 88. He said that if traditions had not been reported by Sayyida Ayesha Siddiqa (ra), a major portion of Sira al-Nabi (pbuh) would not have been explored till the Day of Judgment.
MQI leader said that no seeker of knowledge who approached Sayyida Ayesha Siddiqa (ra) went back without quenching the thirst of his knowledge and having all his questions addressed. About 100 of the holy Companions have reported hadith by citing her (ra) as narrator. He said that she possessed deep and thorough knowledge of issues. "Why would Sayyida Ayesha Siddiqa (ra) not get this scholarly station because much of revelation was sent down to the Holy Prophet (pbuh) in her chambers?" he added.
Dr Qadri said that her fountain of knowledge and wisdom continues to benefit the seekers of truth and knowledge till today and will continue to do so till the Day of Judgement. "She (ra) was the greatest jurist, interpreter, revivalist, and the pious lady of the Umma", he concluded.