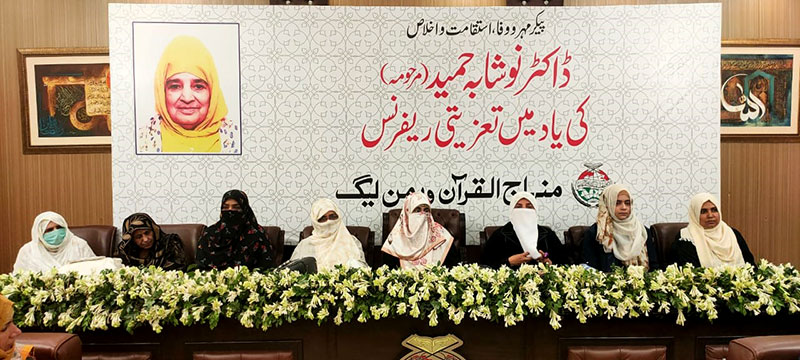 A condolence reference was held under the banner of Minhaj-ul-Quran Women League to acknowledge and pay tributes to MWL's founding member Dr Noshaba Hameed who breathed her last a few weeks ago. Addressing the reference, Begum Riffat Jabeen Qadri said that ideological workers are like a soul in the body of movements. She said that the MQI leadership considers the workers as their offspring and greatly appreciate their services. She said that there is Hadith that says that he who is not grateful to people cannot be grateful to Allah Almighty. She said that Dr Noshaba Hameed was a proud asset of MQI and she spent her whole life in the service of MQI, working to promote its mission day in and day out.
President MQI International Dr Ghazala Hassan Qadri said that late Dr Noshaba Hameed spent her energies for the cause of Islam and MQI. She said that Allah Almighty creates the feelings of love, and respect in the hearts of people for those who dedicate themselves to the welfare of ailing humanity. She said that the lovers of humanity enjoy high stations in the world hereafter too. She said that sincere and committed personalities such as Dr Noshaba become the inspiration and source of bringing about positive changes in societies.
Addressing the condolence reference, Dr Fizzah Hussain Qadri stated that the services rendered by Dr Noshaba Hameed will always be remembered. She was like an affectionate mother to the daughters of MWL who would also mentor and guide them. She said that Dr Noshaba's life was a role model that can inspire many women, adding that her services for MWL are a proof of her sincerity and steadfastness.
The prayer ceremony was attended by central MWL President Mrs. Farah Naz, Secretary General Sidra Karamat, Ayesha Mubashir, Aneela Dogar, Umm-e-Habiba Ismail, Fareeda Sajjad, Kalsoom Qamar, Asia Saif, Kalsoom Tufail, Naureen Alvi, Shameem Khan, Nargis Inam, Naseem Gulzar and other senior MQL leaders.
The speakers threw light on the services, and life of Dr Noshaba Hameed and paid glowing tributes to her. A special Dua was made for the departed soul on the occasion.