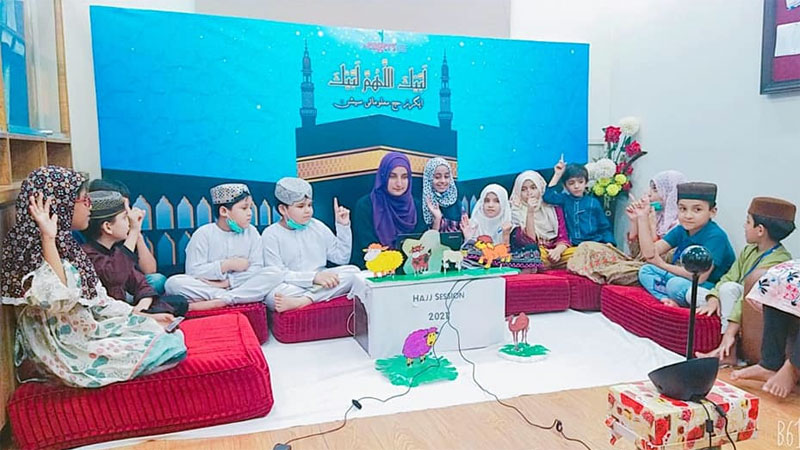 Eagers Club is arranging a three-day awareness session on Hajj from July 14 to July 16 at the MQI central secretariat. The purpose of organizing the session is to provide information to the children, highlight the blessings of the holy pilgrimage and answer the questions.
Addressing a meeting held to review the progress of the session, Umm-e-Habiba Ismail, deputy General Secretary of Minhaj-ul-Quran Women League, said that we are living in a world driven by information and communication technology. She said that it is important to use these modern means of communication to create awareness about the Islamic rituals and festivals among our children. She said that we need to educate our children about the philosophy of going to Hajj, and the various acts performed as part of the pilgrimage.
Umm-e-Habiba said that Eagers Club holds activities periodically to educate children about the Islamic teachings and worship. She said that this session on Hajj has been arranged to let them know that Hajj is the collection of all forms of worship. She said that Eagers Club is busy in imparting education and awareness among the children about Islamic and moral teachings. She said that the idea is to help children explore their humanity and become responsible and productive citizens.
She said that morality is the pivot around which Islamic teachings revolve. 'Children have impressionable and receptive minds. They need to be provided with correct information so that they can mould their personality accordingly. Eagers will continue to use technology for this purpose," she added.
The meeting was attended by Umme Kalsoom,Sadia Ahmad, Anzala Malik, Shamza Lateef, Bisma Amjad, Kashf Yaseen, Bisma Khalid and other leaders of Eagers Club.