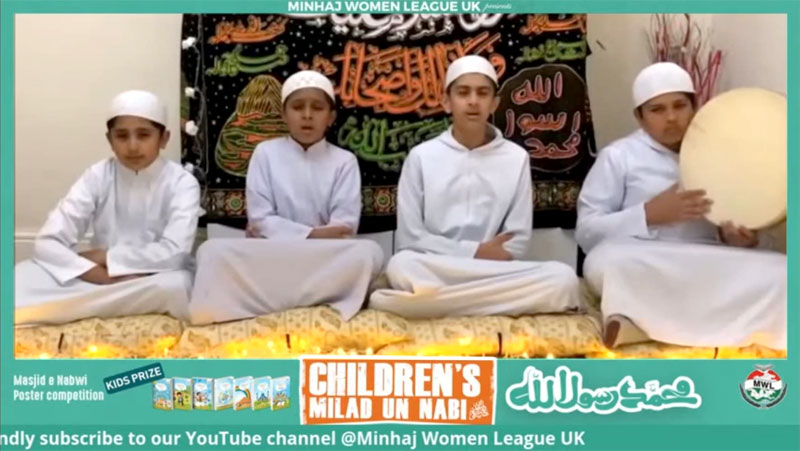 Minhaj Women League UK held a beautiful children's Mawlid-un-Nabi (pbuh) programme which was hosted by Ehram Fatima, MWL UK Welfare Secretary. The wonderful contributions were made by children from all the four zones.
The Mawlid started with a wonderful recitation of the Holy Quran by Rabeeha Rafiq followed by a captivating naat by Sarah Majeed. Kaneez Fatima delivered a talk on the blessed birth of the Holy Prophet Muhammad (saw) in English and Baqir Hussain passionately recited a Naat in Urdu.
Next Nabeela Akhtar was invited to speak about the Sunnah of the blessed Prophet (saw) in English followed by an Urdu Naat by Rumaisa Shaikh and an English talk by Zahra Razzaq on the Prophet (saw) as a mercy to the worlds. An informative animation was played on some of the miracles performed by Prophet Muhammad (pbuh).
Hassan Abdullah, Bilal Hussain, Moheed ur Rahman and Muhammad Adam recited an Arabic nasheed with Daff.
Next Ehram announced the winners of the Masjid e Nabawi poster competition, with Fazal Hussain winning in the age category 4- 8 year olds, and Simrah Ali winning in the age category 9-13 year olds.
Salaam was recited by Sukaina Saleha and Zahra Fatima and Duaa was made by Khansa Iqbal.