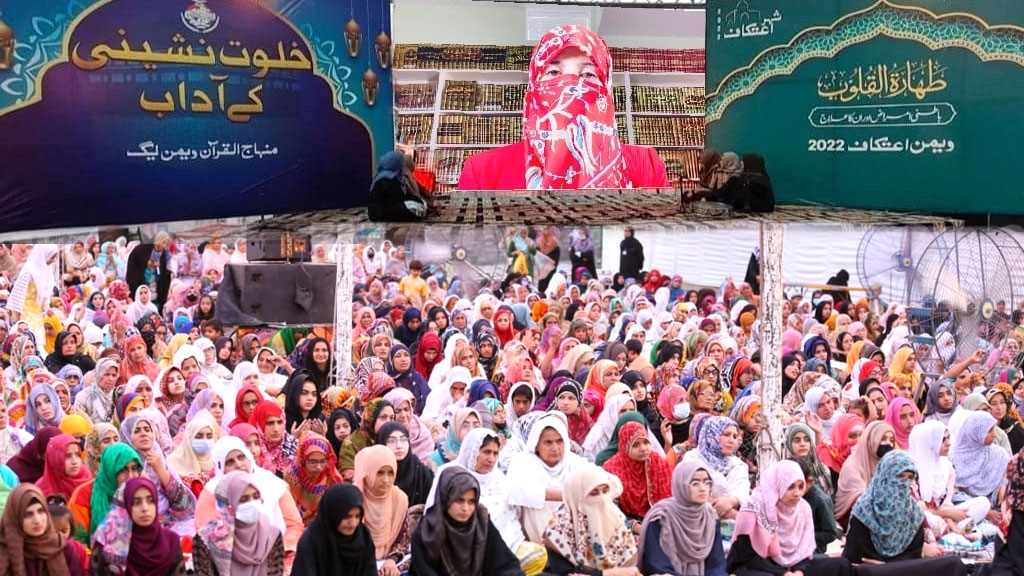 𝗗𝗿. 𝗚𝗵𝗮𝘇𝗮𝗹𝗮 𝗤𝗮𝗱𝗿𝗶 𝗮𝗱𝗱𝗿𝗲𝘀𝘀𝗲𝗱 𝘄𝗼𝗺𝗲𝗻 𝗺𝘂𝘁𝗮𝗸𝗶𝗳𝗮'𝗮𝘁 who are part of women's itikaf organized under the aegis of MQI Pakistan. While addressing the introductory session, she welcomed all the mutakifaat who have joined from different cities and corners of Pakistan. She said that 𝒊𝒕 𝒊𝒔 𝒕𝒉𝒆 𝑺𝒖𝒏𝒏𝒂𝒉 𝒐𝒇 𝑯𝒐𝒍𝒚 𝑷𝒓𝒐𝒑𝒉𝒆𝒕 (𝑷𝑩𝑼𝑯) 𝒕𝒐 𝒅𝒐 𝑰𝒕𝒊𝒌𝒂𝒇 𝒊𝒏 𝒕𝒉𝒆 𝒍𝒂𝒔𝒕 10 𝒅𝒂𝒚𝒔 𝒐𝒇 𝑹𝒂𝒎𝒂𝒅𝒂𝒏. 𝑴𝒂𝒚 𝑨𝒍𝒎𝒊𝒈𝒉𝒕𝒚 𝑨𝒍𝒍𝒂𝒉 𝒂𝒄𝒄𝒆𝒑𝒕 𝒐𝒖𝒓 𝑰𝒔𝒕𝒊𝒈𝒉𝒇𝒂'𝒓, 𝒑𝒓𝒂𝒚𝒆𝒓𝒔 𝒂𝒏𝒅 𝒊𝒃𝒂𝒅𝒂𝒉 𝒂𝒏𝒅 𝒈𝒓𝒂𝒏𝒕 𝒖𝒔 𝑯𝒊𝒔 𝒔𝒖𝒃𝒔𝒆𝒓𝒗𝒊𝒆𝒏𝒄𝒆 𝒊𝒏 𝒐𝒖𝒓 𝒊𝒏𝒏𝒆𝒓 𝒂𝒏𝒅 𝒐𝒖𝒕𝒆𝒓 𝒔𝒆𝒍𝒗𝒆𝒔.
Mutakifaat must spend these days of seclusion to seek love and nearness of Almighty Allah. Dr Ghazala Qadri said that 𝒊𝒕𝒊𝒌𝒂𝒇 𝒊𝒔 𝒕𝒐 𝒔𝒆𝒄𝒍𝒖𝒅𝒆 𝒂𝒏𝒅 𝒔𝒑𝒆𝒏𝒅 𝒕𝒊𝒎𝒆 𝒊𝒏 𝒊𝒔𝒐𝒍𝒂𝒕𝒊𝒐𝒏. She then asked why is it important to observe Itikaf? To explain it, she said that everyone has an innate Nafs. Nafs-e-Ammara is at the core of every evil. So, it's important to purify this Nafs and 𝒂𝒎𝒐𝒏𝒈𝒔𝒕 𝒎𝒂𝒏𝒚 𝒘𝒂𝒚𝒔 𝒂𝒏𝒅 𝒎𝒂𝒏𝒏𝒆𝒓𝒔, 𝒊𝒔 𝒔𝒆𝒄𝒍𝒖𝒔𝒊𝒐𝒏. She said that many factors and evils that affect and impact Nafs are related to our social interactions and dealings. She emphasized upon purifying Nafs by spending time in isolation and secluding oneself. This should be our purpose to observe Itikaf.
Dr Ghazala Qadri stated a very important point that 𝒐𝒏𝒄𝒆 𝒘𝒆 𝒕𝒂𝒌𝒆 𝒄𝒐𝒏𝒕𝒓𝒐𝒍 𝒐𝒗𝒆𝒓 𝒐𝒖𝒓 𝑵𝒂𝒇𝒔, 𝒕𝒉𝒆 𝒐𝒖𝒕𝒆𝒓 𝒂𝒕𝒎𝒐𝒔𝒑𝒉𝒆𝒓𝒆 𝒅𝒐𝒆𝒔𝒏'𝒕 𝒊𝒎𝒑𝒂𝒄𝒕 𝒖𝒔 𝒔𝒕𝒓𝒐𝒏𝒈𝒍𝒚. So, these days of itikaf which train us to observe patience and forbearance are an opportunity 𝒕𝒐 𝒑𝒖𝒓𝒊𝒇𝒚 𝒕𝒉𝒆 𝒔𝒕𝒂𝒕𝒆 𝒐𝒇 𝒕𝒉𝒆𝒊𝒓 𝒊𝒏𝒏𝒆𝒓 𝒔𝒆𝒍𝒗𝒆𝒔. Towards the end she said not to waste these days but attain maximum benefits from the spiritual blessings of these days of itikaf.