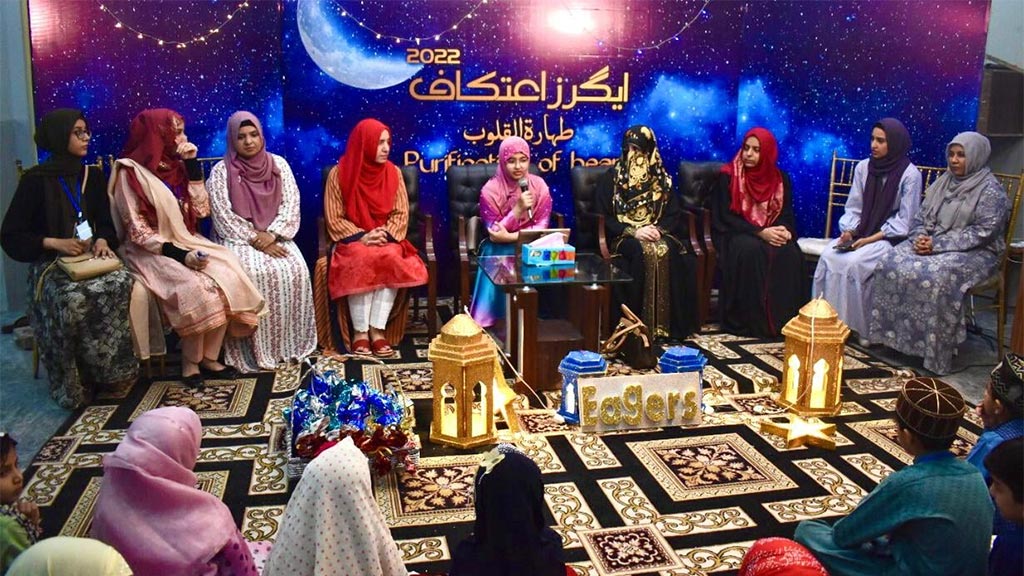 Sister Sukayna Hussain Qadri shared a story with kids at Eagers itikaf the other day. Mrs. Fizzah Hussain Qadri also joined the session. She told the children about 7 ethics that are essential to implement in our daily lives.
These key ethics included 𝘩𝘰𝘯𝘦𝘴𝘵𝘺, 𝘳𝘦𝘴𝘱𝘦𝘤𝘵𝘪𝘯𝘨 𝘱𝘢𝘳𝘦𝘯𝘵𝘴, 𝘢𝘷𝘰𝘪𝘥𝘪𝘯𝘨 𝘭𝘪𝘦𝘴 𝘢𝘯𝘥 𝘣𝘢𝘤𝘬𝘣𝘪𝘵𝘪𝘯𝘨, 𝘣𝘦𝘪𝘯𝘨 𝘩𝘶𝘮𝘣𝘭𝘦 𝘢𝘯𝘥 𝘰𝘣𝘦𝘥𝘪𝘦𝘯𝘵, 𝘢𝘴 𝘸𝘦𝘭𝘭 𝘢𝘴 𝘬𝘦𝘦𝘱𝘪𝘯𝘨 𝘱𝘳𝘰𝘮𝘪𝘴𝘦𝘴. She also talked about the importance of time management with the little Mutakifeens.
Sukayna Hussain Qadri shared that time should be divided in three main domains:
1: Time for Ibadat
2: Time for Family
3: Time for Education
Children were very involved and thoroughly enjoyed. Kids were also asked some questions during the session that made it very interactive. Upon giving answers, they were presented gifts as a token of appreciation.
In the 𝘀𝗲𝗰𝗼𝗻𝗱 𝘀𝗲𝗴𝗺𝗲𝗻𝘁, Mrs. Fizzah Hussain Qadri talked to the Eagers Itikaf's management team and appreciated their tireless efforts. The day concluded with a 𝘀𝗽𝗲𝗰𝗶𝗮𝗹 𝗶𝗳𝘁𝗮𝗿, full of spirituality and love.