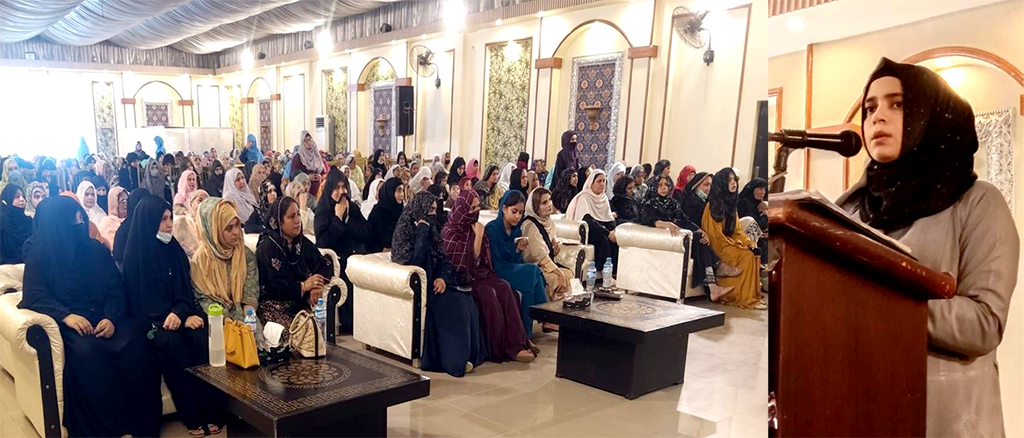 Sayyida Zaynab (salam Allah alayha) Conference was organized by Minhaj-ul-Quran Women League Central Gujranwala district in which vice president MWL Ms Sidra Karamat, Zonal Head KPK Mrs. Irshad Iqbal and Deputy Zonal Head Central Punjab Ms. Saba Aslam participated as chief guests.
Distinguished ladies from various walks of life also attended the conference. The president of the district, Ms. Huraira Bawar presented the welcome note to all the participants.
Ms. Sidra Karamat delivered the keynote lecture while Bint-e-Mustafa gave the overview of books written by Shaykh-ul-Islam Dr Muhammad Tahir-ul-Qadri about Ahle Bayt-e-Athaar (Alayhimus-salam). Social worker Ms. Suraiya Manzoor and PTI leader from Gujranwala Ms. Tamkin Naqvi also spoke on the occasion.
While delivering the keynote lecture, Ms. Sidra Karamat highlighted the role of Sayyida Zaynab (salam Allah alayha) in the Battle of Karbala and afterwards. She said that the character and bravery of Sayyida is an exemplary role model for today's women. The story of Karbala is incomplete without the character of Sayyida Zaynab (salam Allah alayha). Hundreds of women attended the conference and Ms.Sidra Karamat appreciated Ms. Huraira Bawar & team for organizing the remarkable conference.