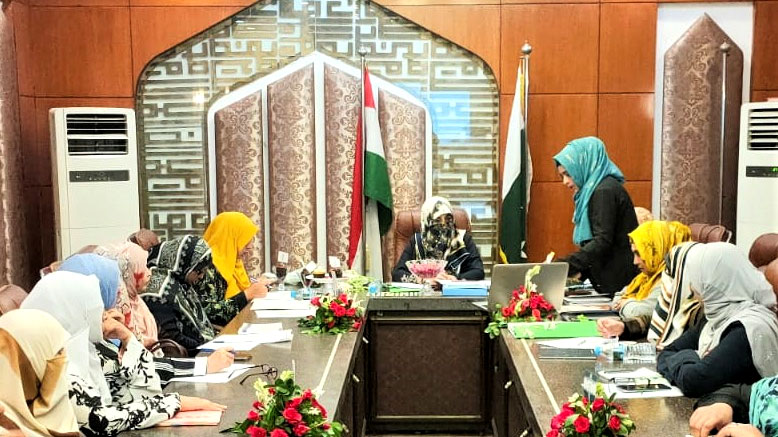 In an exclusive session with the executive team and senior members of MWL Pakistan today, Mrs. Fizzah Hussain Qadri was given briefings regarding different aspects of Milad-un-Nabi (pbuh) campaign.
After the recitation of Holy Quran and Naat of Holy Prophet (pbuh), President MWL Pakistan Dr. Farah Naz gave an overview of Milad campaign and explained the objectives behind the slogan of this year's campaign. She said that this year our campaign will be focusing on adoption of Seerah in our lives along with reiterating the love of Holy Prophet (pbuh). It was followed by an overview of previous year's gradual evolution of Milad campaign by Deputy President Sr. Sidra Karamat. She mentioned the salient features of the previous years. Later on, Secretary General Zones Sr. Anila Ilyas shared her experiences from previous years and formally handed over the data of previous Milad campaigns to the new Milad campaign Head Sr. Habiba Ismail, Secretary General Zones. Sr. Habiba then briefed this year's campaign features and dimensions. She explained the draft of activities and events being planned by all the departments of MWL Pakistan.
Proceedings of the meeting was thoroughly endorsed and appreciated by chair of the session Mrs. Fizzah Hussain Qadri. She reviewed each segment of the plan and with her instructions and feedback, MWL's Annual Milad plan has been finally out for execution. She said that "this is a great opportunity and a blessing for each one, serving in the execution plan, to avail the spiritual blessings and proximity of Allah Almighty and His Beloved Prophet (pbuh). Celebration of Milad-un-Nabi (pbuh) is a means to the purification of our hearts and souls and also an effective source to propagate dawah to thousands of women from all across Pakistan. So, all members should consider the responsibilities given to them very seriously as it will become a source of expanding dawah work and Seerah of Holy Prophet (pbuh). While appreciating the team's efforts, she also extended best wishes and ensured her full support throughout the campaign."
The meeting also included some fact based reviews of the senior members who shared their feedbacks and suggestions to make the implementation of the plan more effective. Along with executive team members of MWL, the session was joined by senior sisters including Dr. Shazia Butt, Dr. Javeria Hassan, Sr. Humera Naz, Sr. Kulsoom Tariq, Sr. Kulsoom Tufail, Sr. Sana Waheed and Naat Councils representatives.