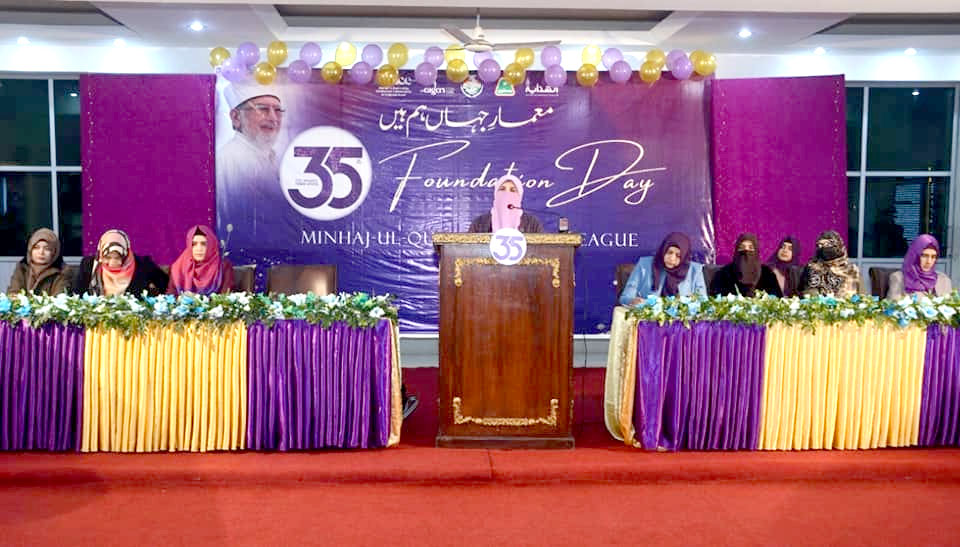 The central commemoration of Minhaj-ul-Quran Women League's 35th Foundation Day was held at the central Secretariat of Minhaj-ul-Quran International. The programme was attended by the pioneers, office-holders and senior members including Mrs. Farida Sajjad, Mrs. Shamim Khan, Dr Shazia Butt, Dr Javeria Hassan and others.
Foreign team representatives from MWL Europe, UK and Australia also presented their reports and shared their congratulatory messages.
While representing the Pakistan based Tanzimat, General Secretary MWL for zones Ms. Um-e-Habiba Ismail shared the 35-year-old journey of Minhaj-ul-Quran including how it started, its stages of evolution and launching of multiple departments. Alhamdulillah, now Minhaj-ul-Quran Women League Pakistan has eight sub-departments and its organizational network in 14 zones with around 250 teams across Pakistan.
Representing overseas teams, General Secretary for departments Mrs. Ayesha Mubashir paid tributes to the teams of Europe, UK, Canada, Australia, North America and Asian countries. Ms. Shazia Rana presented report of MWL Europe, Ms. Rabia Urooj Malik from MWL Australia shared her feelings and congratulated all participants on the 35th Foundation Day, Ms. Saiqa Shaheen represented MWL UK and Ms. Moizza Ghafoor presented the overall report of MWL Canada with the details of programs, courses and various projects completed.
Vice President MWL Ms Sidra Karamat presented a foundational declaration. At the end of the program, President MWL Pakistan Dr. Farah Naz gave an important message for All presidents of Minhaj-ul-Quran Women League by expressing her feelings and emotions for MQI and its role in our life. She said Minhaj-ul-Quran Women League is not only an organization, it is a movement working to bring about change in the lives of women not only in Pakistan but also across the globe. The session formally ended with the cake cutting ceremony to celebrate the joyous occasion of the Foundation Day.