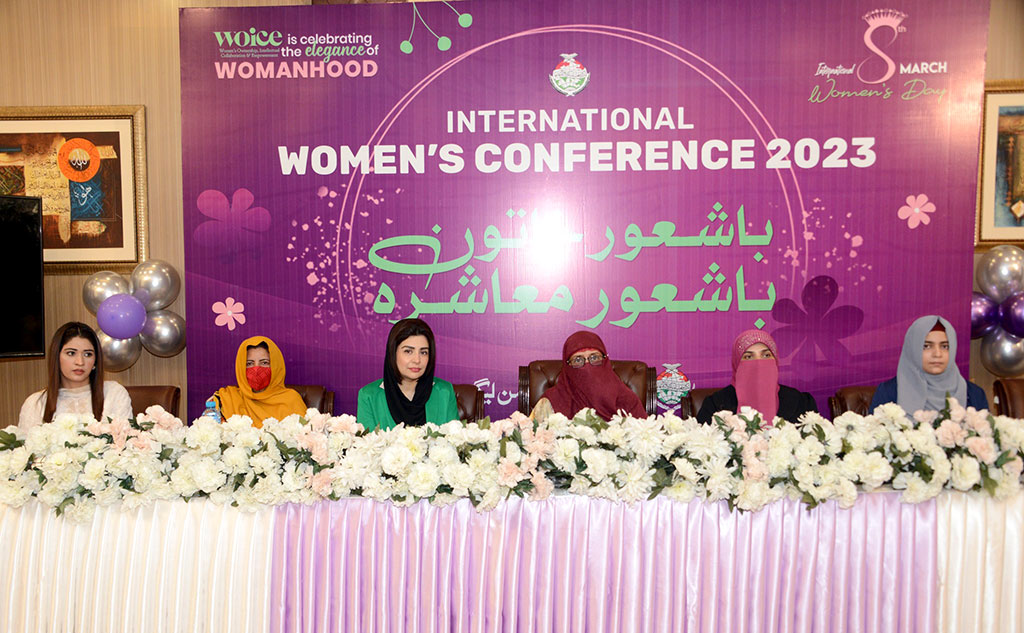 WOICE, a subordinate department of Minhaj-ul-Quran Women League, arranged a seminar on the occasion of International Women's Day 2023. The women leaders, who spoke at the seminar, said that the extreme attitudes represent the exploitation of women and are a hurdle in the way of their empowerment and freedom. They said that one set of people seeks an independence for women like the one enjoyed by the West and there are other people who are bent on confining them to the four walls of their home. Terming these attitudes as bordering on the extreme, they said that Islam is a religion of moderation, which practices balance and moderation.
Majlis Wahdat e Muslimeen (MWM) leader Masooma Agha, Director Iqbal Academy Prof. Dr. Baseera Ambreen, MWL central president Dr Farah Naz, Dr Shahida Naumani, renowned TV anchor Aroosa Khan, and social activist Fatima Butt addressed the seminar.
MWM leader Masooma Agha said that Allah Almighty has made Muslims Ummah into a community of moderation and established a balance in the rights and duties of women. She said a society which is not based on the principle of moderation becomes a victim of extremes and gets destroyed in the process.
Director Iqbal Academy Prof. Dr. Baseera Ambreen said that it is unfortunate that our society has fallen prey to two extremes. She said while one section of society talks about freedoms for women, the other one is supportive of imposing undue curbs on them, adding that the way out lies in adopting the path of moderation. The women, she said, should pursue the role described for them by the Islamic law and our elders.
MWL president Dr Farah Naz said that the biggest evidence of the status of women in Islam is provided by Islamic Shariah. She said that there is no personality in human history who stood up for his daughter as a mark of respect, adding that the Holy Prophet (PBUH) started the first movement for the rights of women.
Dr Shahida Naumani said that Islam is the protector of human rights. She said that Islam gave high status and rights to women that were hard to imagine before. She said that women's economic rights were protected by making her a shareholder in the inheritance. Islam termed the practice of burying the daughters alive as forbidden and described them as mercy. She said that MQI and Shaykh-ul-Islam have highlighted the Islamic perspective of women rights and addressed many misconceptions in this regard.
Anchorperson Aroosa Khan said that the Holy Prophet (PBUH) gave many rights to women including the right of a share in inheritance. She said that Islam offers a complete code of conduct, stating that Islamic teachings are free of any kind of extremism and suffocation.
Ms. Fatima Butt said if the educational system is structured along the Islamic lines, society can be reformed. She said that we should benefit from the teachings of the Holy Quran in the upbringing of our children.
Senior MWL leaders, Sidra Karamat, Ayesha Mobashar, Irshad Iqbal, Umm-e-Habiba Ismail, Naureen Alvi, Sadia Ahmad, Umme Kalsoom and others were present on the occasion.