Mrs. Fizzah Hussain Qadri addresses "Pre Marital Training Session"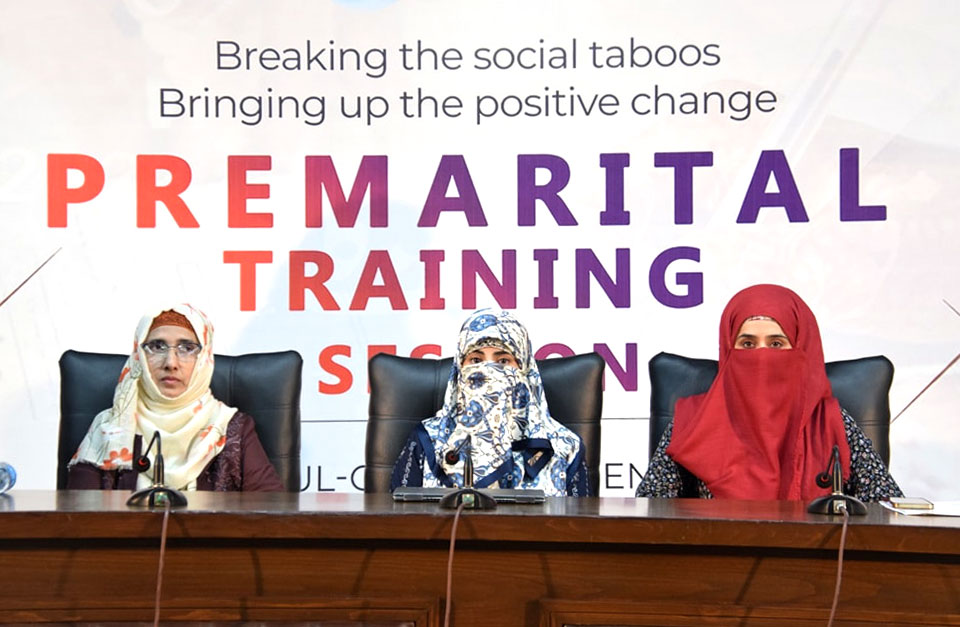 An event was organized by the WOICE department of Minhaj-ul-Quran Women League in collaboration with Seekers Club of Minhaj University today. This important training session was entitled as "Pre Marital Training Session" and included three important talks with keynote speech by Mrs. Fizzah Hussain Qadri.
After the formal start of the event, lecture in the first session was delivered by Mr. Qaiser Ahmad Raja. While delivering his talk at the session he said that "I've learnt one thing from the spirituality that if we start giving anything to others, we will be receiving that thing too. Therefore, if you want to get your rights, focus on your duties."
In the second session, Director WOICE, Mrs. Ayesha Mubashir presented a thanks note to the respected guest speakers and the participants who joined the premarital training session. After which Mrs. Sana Waheed delivered an important talk and addressed rising challenge of the present time when responsibility and relationship with husband has been impacted by extreme narratives in society. She drew a balance between the extremes in the light of Islamic and social understanding of the subject.
Mrs. Fizzah Hussain Qadri talked on the topic of "Key ingredients of a successful married life" and gave very practical suggestions to the young students attending the event. She emphasized upon the importance of having patience in this relation which she said is the most important ingredient of any successful and happy married life.
She also talked on anger management techniques and their importance along with having thankfulness in attitude to enjoy every blessing of this life. Narrating references from the Holy Quran and traditions from the Holy Prophet (pbuh), she said that being spouse, each partner has a responsibility towards the other and they must support each other through every thick and thin.
Mrs. Fizzah Qadri also talked on the importance of self accountability at every step to maintain self-check and avoiding blaming others for anything wrong. She advised the sisters to improve communication with their spouses to avoid misunderstandings and is a key ingredient to a happy married life.
While concluding her talk she appreciated Director WOICE Mrs. Ayesha Mubashir and her entire team on organizing this important session and extended wishes for the success of all other plans of the department.
Coordinator Seekers Club, Minhaj University Ammara Maqsood delivered a closing note. The ceremony was attended by students and faculty members of Minhaj University Lahore.