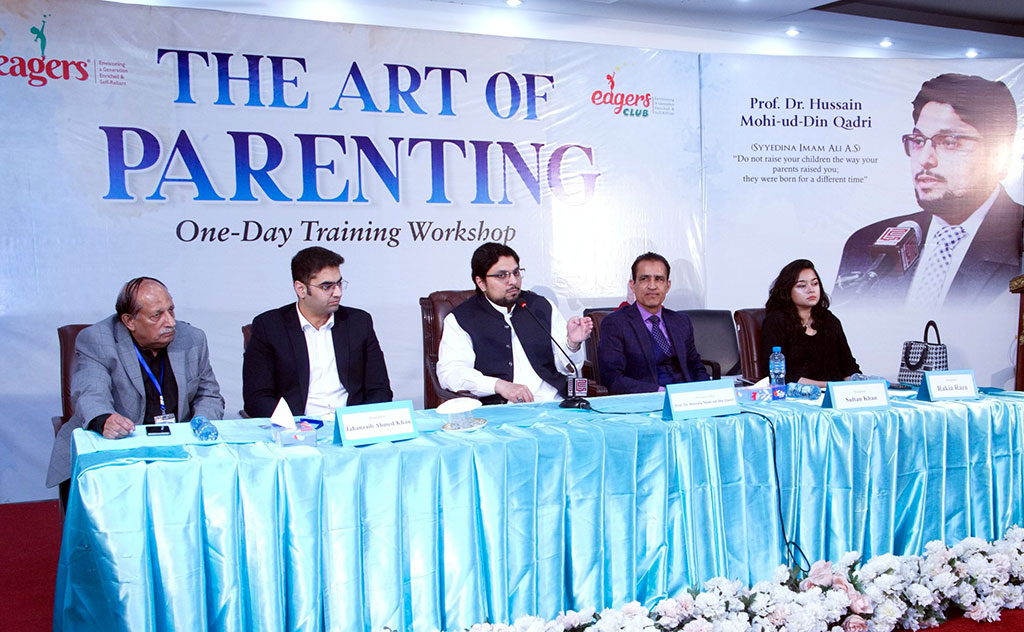 This one-day training workshop was specifically designed for the parents of our Eagers Club stars. The event started off with the recitation of the Holy Quran and Nasheed.
Miss Ayesha Mubashir gave an introduction to all the parents about this parenting workshop. She explained how this topic was the need of the hour and how important it is for parents to be conscious about raising their kids.
Ms. Ayesha Anwar is a Senior Registrar of Pediatrics at Mayo Hospital and the first panelist in today's event. During her session, she shed light on the importance of a healthy diet for kids and shared her valuable understanding of balancing the eating habits of children. She discussed the challenges mothers faced to ensure that their kids eat healthily and shared some useful tips for how to maintain a healthy diet for kids.
Miss Rakia Raza is a professional psychologist and a panelist in 'The Art of Parenting'. Her topic of discussion was child psychology and development. During her session, she highlighted the importance of the impressions that parents leave on their children at different stages of growth and how a seemingly harmless 'No' from parents can impact a child at different stages of life. She also emphasized the role parents play in shaping their child's psychological growth.
The next panelist was Mr. Jahanzaib, who is a motivational trainer, and a life coach. His session on "Spousal communication and child rearing" stressed the importance of both parents working together to shape their child's personality. It is not just the mother's responsibility to raise a child but an equal responsibility of the father as well. Mr. Jahanzaib also highlighted the significance of adding value to others' lives, rather than indulging in gossip.
Our last panelist, Mr. Sultan Khan is a parenting and child behavior expert. He delivered an insightful session on 'Behavioral Management and Habit Formation of Children.' He discussed the significance of character formation in children, as well as the importance of behavior management. His presentation was a much-needed contribution to the ongoing conversation on effective parenting, and it shed light on new strategies that parents can use to promote healthy behaviors in their children.
The last and most highlighted session of the event was Prof. Dr. Hussain Mohi-Ud-Din Qadri's much-awaited talk which was a huge sea of valuable advice and guidance for parents. He emphasized the importance of taking parenting seriously and treating it like a project. He highlighted the significance of creating a positive environment at home, as it is the number one place where children learn from. Additionally, Dr. Hussain Mohi-Ud-Din stressed the importance of treating children with love, care, and trust and giving them undivided attention. His talk was insightful and provided parents with practical tips on how to raise happy and healthy children.
To end this successful workshop, there was a Q&A session with all the panelists. The parents expressed their concerns and looked for guidance from professional trainers and motivators who took part in this event. Everyone enthusiastically participated in this session and gave tremendous feedback. This was only the launching of 'The Art of Parenting' series and there's much more to come as parenting is more important than ever in today's time and age.