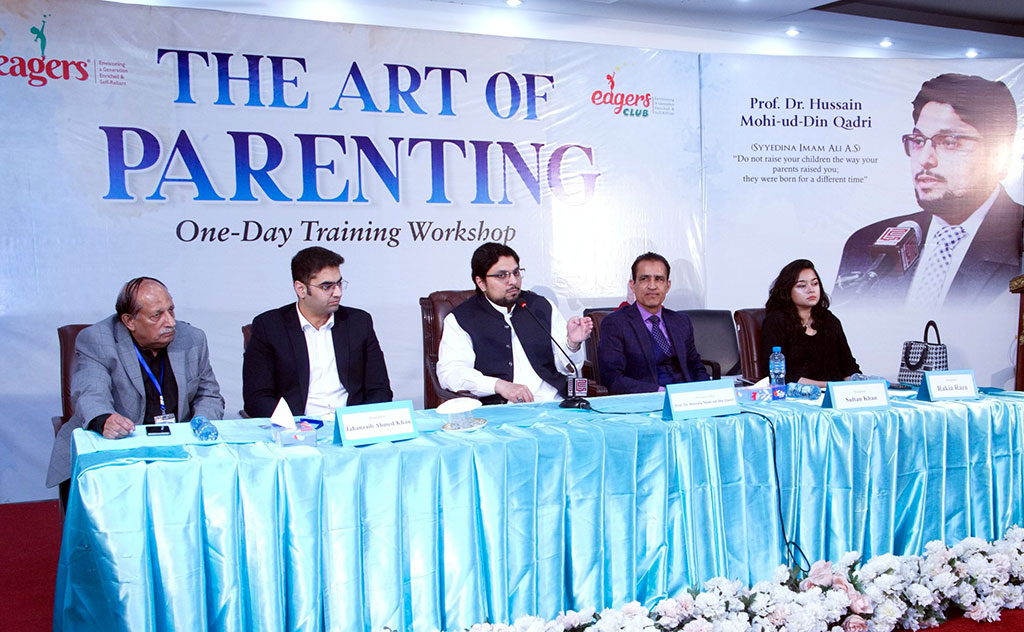 President MQI Prof Dr. Hussain Mohi-ud-Din Qadri addressed a day-long workshop on the art of parenting held under the banner of Eagers Department of Minhaj-ul-Quran Women League. In his address, he said that the mutual relationship between the parents and the overall environment of the family goes a long way in shaping the personality of the child. He said that those who want to see their children become obedient should first become responsible parents. He said that the lawful sources of income generation also have an impact on the upbringing of the children. He said that upbringing of the children is the shared responsibility of both the parents, adding that they should consider this task seriously.
Prof Dr. Hussain Mohi-ud-Din Qadri congratulated Dr. Farah Naz, Sidra Karamat, Ayesha Mubashar, Umme Habiba Ismail, Umme Kalsoom Qamar, Saadia Shamim, and their team members on arranging the workshop on an important topic.
Guest speakers Dr. Jahanzeb Khan, Dr. Ayesha Awnar, Sultan Khan, and Raaqia Raza expressed their views on the occasion and threw light on the responsibilities of the parents in the task of upbringing of the children. The motivational speakers told the parents to give quality time to their children and listen to them carefully. He said that positive engagement is at the heart of the beneficial relationship. They advised that the parents should not use cell phones while interacting with their children. They added in the same breath that an attitude of intimidation that borders on harassment is also very dangerous.
At the end of the workshop, Prof Dr. Hussain Mohi-ud-Din Qadri answered questions of the parents. He said that they should treat their children with affection, love, and respect. He said that they should get them admitted to schools whose fee they can pay. He further said that they should also keep an eye on their habits. He said that they should also get clarity about the careers their children want to pursue later in life. He said that the parents should desist from fighting in front of children, adding that only a peaceful environment can lead to positive personalities. He said that if a child is brought up in a violent environment, he is likely to imbibe violent tendencies.
Ayesha Mubahsar thanked all the guests and the participants for their time. The ceremony was attended by GM Malik, Noorullah Siddiqui, Abdul Sattar Minhajian, Aftab Ahmad Khan, Mansoor Qasim Awan, Zeeshan Ahmad, and others.