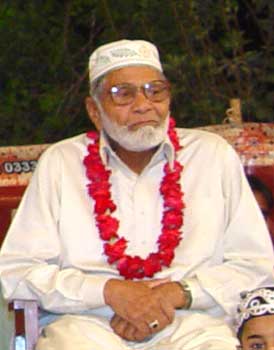 Al-Haaj Muhammad Ismail Qadri, Uncle of Shaykh ul Islam Dr Muhammad Tahir ul Qadri passed away on 16 Nov, 2007 at 8:00 pm.
إنَّا للّه وَإنَّـا إلَيْه رَاجعونَ
Funeral prayer of the deceased will be offered at 2:00 pm on 17 Nov 2007 at Jhang.
Sahibzada Hussain Mohi ud Din Qadri, Ameer e Tehreek Sahibzada Miskeen Faiz ur Rehman Durrani, Nazim e A'la Dr Raheeq Ahmad Abbasi, Senior Naib Nazim e Al'a Sqdrn. Ldr. Sheikh Abdul Aziz Dabbagh, Naib Nazim e A'la Sheikh Zahid Fayyaz, Director Foreign Affairs GM Malik, Nazim Dawat Rana Muhammad Adrees, Director Research Dr Ali Akbar Al-Azhari, Deputy Director Research Rana Muhammad Farooq, Nazim Youth Sajid Mehmood Bhatti, Ameer e Punjab Ahmad Nawaz Anjum, Nazim Welfare Muhammad Aqil Malik, Nazim Publications Haji Manzoor Hussain Qadri and other leaders & Staff & other members of Minhaj ul Quran will participate in funeral prayer.