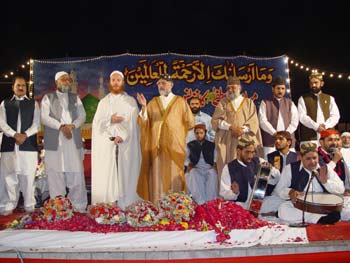 The Annual International Mawlid Conference was held on the grounds of the Minar-e-Pakistan. It is held annually to welcome the morning of the Birth of the Mercy to the Universe, Prophet Muhammad SAW. The conference began after Isha Prayer with recitations of the Holy Quran by renowned Qaris of Pakistan followed by praise to the Prophet SAW sang by world famous singers of Hamd, praise to the Prophet SAW, Islamic songs/Nasheeds. Introductory lectures were also given by central leaders of MQI.
Stalls were held by all departments and forums of MQI around the grounds of Minar-e-Pakistan to offer their services to the participants. The 290 books of Dr Tahir-ul-Qadri and his approximately 6000 lectures on CDs, video/audio cassettes, in English, Urdu and Arabic were available on half price to the participants.
The grounds of Minar-e-Pakistan literally exploded when Dr Tahir-ul-Qadri accompanied with the Chief Guest of the conference ash-Shaykh as-Sayyad Muhammad al-Yaqoubi al-Hassani stepped onto the stage. They waved at the hundreds of thousands of participants who were overjoyed to see them and were shouting slogans of takbeer and risalaah in unison together with slogans of Mawlid-un-Nabbi. Also shouting slogans with the names of Dr Tahir-ul-Qadri and Ash-Shaykh as-Sayyad Muhammad al-Yaqoubi al-Hassani.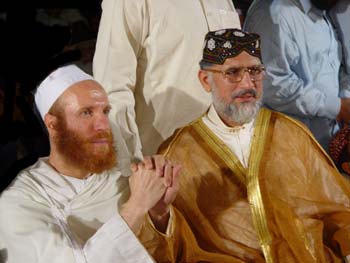 Dr. Tahir-ul-Qadri introduced the Chief Guest to the audience and to a national TV channel. He also gave an introductory message of the Mawlid-un-Nabbi in which he made it clear that the Muslim Ummah can only confront the problems it is currently facing by strengthening its love for the Holy prophet SAW. He said that the Muslim Ummah and the world at large is subject to the state terrorism of the USA, the worlds greatest rogue state.
Alongside Ash-Shaykh as-Sayyad Muhammad al-Yaqoubi al-Hassani who was the chief Guest of the Great International Mawlid Conference, Raza Ali Gilani, Minister for Housing and Development, Government of Punjab, Pakistan was one of the special guests.
Grand Mawlid Dinner:
The grand Mawlid Dinner which was a new feature of the Mawlid celebrations, was also going on as the thousands of participants were arriving at the conference. The meat of 1000 goats was cooked for the dinner and was served to more than 1,50,000 ladies and gentlemen. This was done with the aim of reviving the practice of past Muslim scholars and pious rulers who celebrated Mawlid in the way it should be.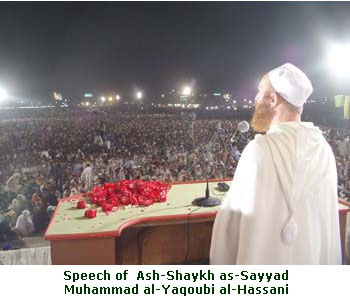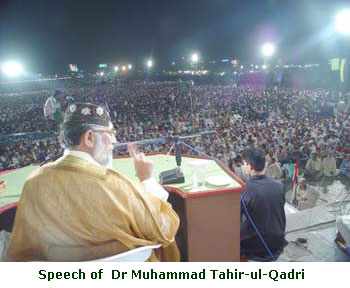 OTHER LINKS
newserror