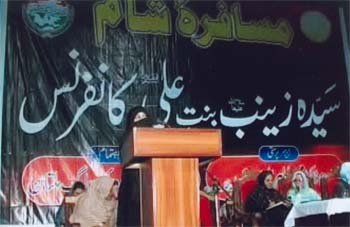 Date: 21st February 2009
Venue: Art Council Multan
Organizer: Minhaj-ul-Qura'n Women League Multan
Speaker: Mrs. Fatima Mash'hadi (President Minhaj-ul-Qura'n Women League.)
Attendants: 1000 sisters
By the grace of Almighty Allah & the blessings of His Holy Prophet Muhammad (Peace be upon Him) a beautiful Sayyada-e-Zainab (R.A.) Conference was arranged by the sisters of Minhaj-ul-Qura'n Women League Multan. Alhamdulillah more than 1000 sisters both from youth & older participated actively to show their love for Ahl-e-bait.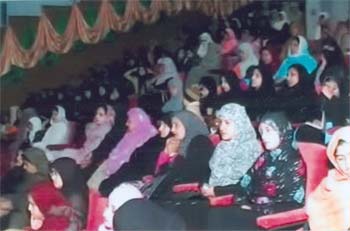 The conference started with recitation of divine words from The Holy Qura'n followed by Darood-o-Salam & a beautiful Nasheed. Then sisters of Minhaj Naat Council Jehlum recited a beautiful Manqabat. Mrs. Ayesha Nadeem (Director Minhaj-ul-Qura'n Women League Islamabad.) said introductory words.
Sister Fatima Mash'hadi (President Minhaj-ul-Qura'n Women League Pakistan) delivered a comprehensive lecture on the role of Khatoon-e-Karbala in the battle of Karbala. She described in detail the leadership and courage that Hadrat Zainab (R.A.); daughter of Hadrat Fatima (R.A.) demonstrated when she stood up to the tyrant dictator Yazeed after the battle of Karbala. She pointed out that the martyrdom of Imam Hussain (R.A.) was in actual fact the revival of Islam and that we should not let the deaths of the ahle bait be in vain.
This conference ended on special prayers by Sister Samina Shafqat.
May Allah Almighty accept our efforts.
Ameen!!!
Reported by: Sadaf Iqbal.