This article is taken from http://uk.reuters.com/article/idUKTRE5792AL20090810?sp=true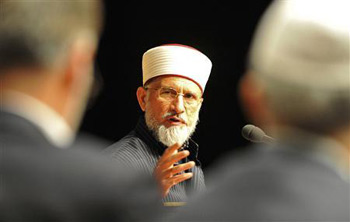 COVENTRY, England (Reuters) - Like any rousing Islamic preacher, Muhammed Tahir ul-Qadri's voice rises to a shout and his index finger jabs as he hammers home a point.
But rather than angry calls for jihad (holy war) or a vitriolic denunciation of the West and its aggressions against Islam, Qadri's message, equally forcefully delivered, is about moderation, peace, inclusion and understanding.
Addressing a packed auditorium from a raised platform, his words beamed on to large screen behind him, more than 1,000 young followers hang on his every word, even as his lecture moves into its fourth uninterrupted hour.
"Islam is not a religion of seclusion, it is not a religion of detachment," he thunders from the dais, occasionally pausing to wipe the sweat from his brow or adjust his spectacles.
"Any killer of a non-Muslim citizen, he will go to hell. Those who are committing terroristic acts from Pakistan and Afghanistan and claiming it is jihad -- they do not know what jihad is. It is forbidden. There will not be janna (paradise) for them," he hollers, to shouts of approval from his listeners.
Qadri, 58, who was born in Pakistan but now lives in Canada, is a renowned scholar of Sufism, a long tradition within Islam that focuses on spirituality, emphasizing peace and moderation.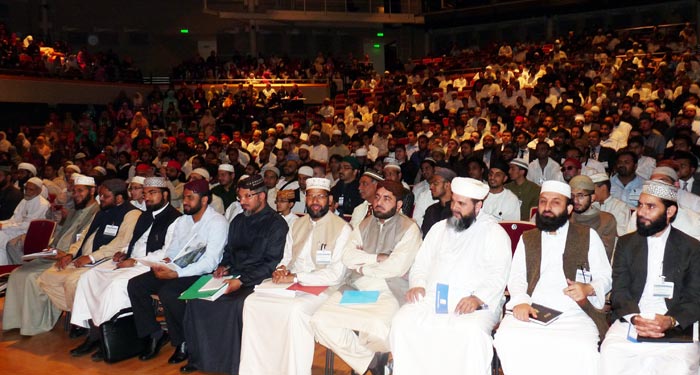 The author of more than 400 books on Islamic scholarship and law, Qadri travels the world delivering sermons to Sufis, while his organization, called Minhaj ul-Quran, has spread to 80 countries, from Greece to Fiji, since its founding in 1981.
In Britain, he is the main draw at a three-day retreat for young Muslims called "Al Hidayah" (Guidance), which over the past five years has grown into the biggest spiritual camp of its kind, with more than 1,200 attendees from a dozen countries.
Qadri believes camps like his, which attract teenagers -- girls and boys wearing traditional dress who sit separately in the auditorium -- as well as their parents and children as young as six, can play a part in combating extremism within Islam.
For Britain, that has been particularly important since 2003, when the country joined the invasion of Iraq, and 2005, when four young British Muslims carried out suicide bombings on the London transport network, killing 52 people.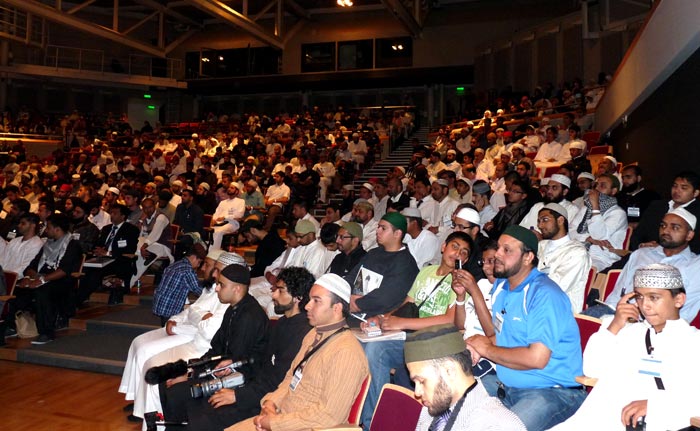 "I feel it is my duty to save the younger generation from radicalization," Qadri said quietly over lunch on Sunday, shortly after finishing the second of several lectures and question-and-answer sessions, which concluded on Monday.
"We need to prepare them mentally and academically, intellectually and spiritually, against extremist tendencies and radical and terrorist attitudes. We need to provide them with an awakening of the true picture of Islam," he said.
TACKLING EXTREMISM
Around the world, and particularly in the United States, there has been a steady increase in adherence to Sufism in the past decade. Governments keen to tackle the spread of more radical branches of Islam in their countries have worked with Sufi scholars and tried to emphasize their teachings.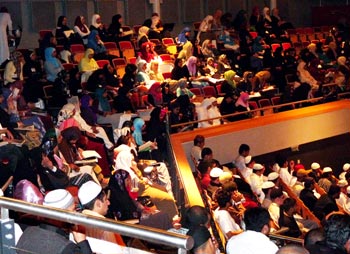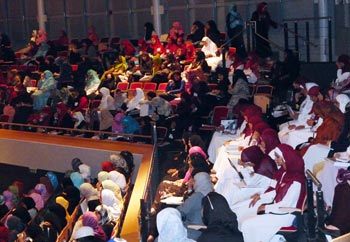 In Britain, home to around 1.7 million Muslims, the bulk from Pakistan, the government at first worked to promote Sufism, supporting the creation in 2006 of the Sufi Muslim Council, a group that took a strong stand against Islamist extremism.
But since then, it has moved away from explicit support, saying that working via the Sufi community -- whose exact number in Britain is not known -- is just one element of a wider approach to countering Islamic radicalism.
"It's part of a broader engagement. We don't want to isolate any one group over another," a government spokeswoman said.
Supporters of Qadri, though, are adamant about the benefits of his teachings, with students coming from as far as Denmark and Canada to hear him speak during the three-day retreat. Women in particular like his emphasis on female equality within Islam, an element not always touched on by other Islamic scholars.
"What he says is mind-opening, it makes you feel good as a woman," said Sofia Saeed, 27, a legal assistant who traveled from Manchester to attend the retreat with a friend.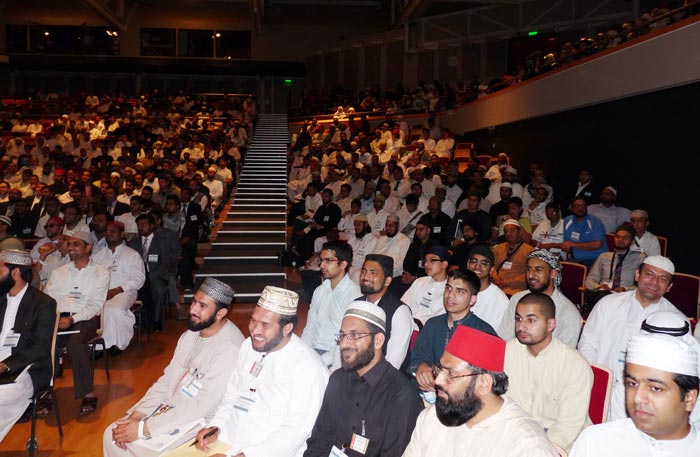 "There's no discrimination here. It makes you feel like a stronger believer, a stronger person," she said, comfortably mixing designer sunglasses with her full hijab head covering.
Qadri, a former minister in Pakistan and close associate of Benazir Bhutto, the assassinated former prime minister, does not believe his teachings can change radical minds overnight, but he is a believer that intellect can ultimately defeat extremism.
"If the terrorists are 10 people and the peaceful are 1,000, then they are more powerful than us with their arms, even if we are 5,000," he said. "But the point is that we have to make the 5,000 more powerful not with arms, but by the communication of the right message of Islam."
(Reporting by Luke Baker; Editing by Jon Boyle)
More Links