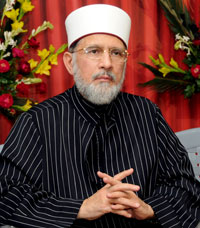 The present system of elections and politics is a hurdle in the way of real change in the country. The people need to bring down the idol of this worst system of exploitation. My entire life is dedicated to the wellbeing of people of Pakistan. I am coming back to the country with an agenda of peaceful change on the 23rd of December.
These views were expressed by Shaykh-ul-Islam Dr Muhammad Tahir-ul-Qadri while addressing Women Workers Convention organized under the banner of Minhaj-ul-Quran Women League telephonically from Canada today. Ms Noshaba Zia, Malika Sahiba, Sidra Jabeen, Shakira Chaudhry, and other women leaders were also present on the occasion.
Dr Tahir-ul-Qadri made it clear that he did not have any political agenda. He said that it was time to save the state, not politics. He said that individual and petty interests would have to be scarified for the sake of national interests. He said that the women played a leading role during the struggle for establishment of Pakistan and it was now time that they repeated history in order to save the country. He asked the women to become part of public awareness campaign.
Dr Muhammad Tahir-ul-Qadri said that it was not a political leader or any political party rather it was electoral system, which was real enemy of the masses. He said that time to bring about change was now and if the nation failed, nothing would be left to change. He said that the women needed to play a defining role to strengthen Pakistan at this hour.