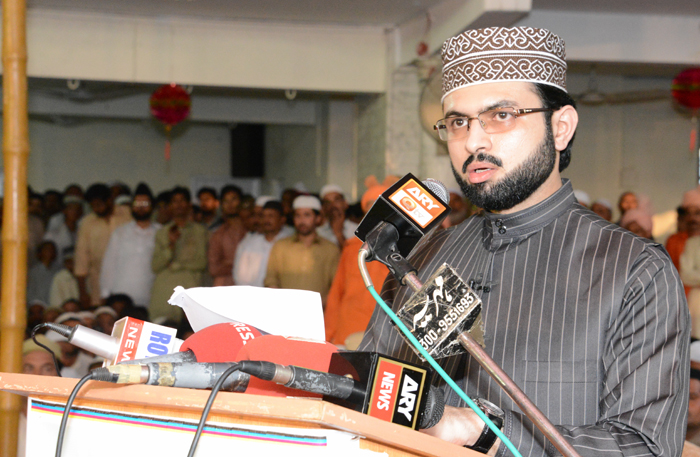 Dr Hassan Mohi-ud-Din Qadri, President of MQI's Supreme Council, has said that the Muslim community will continue to benefit from the blessings of Pir Meher Ali Shah (RA) of Golra Sharif till the Day of Judgment. Referring to Hazrat Pir Meher Ali's spiritual status, he said that the Friends of Allah Almighty irrespective of wherever they lived would continue to enlighten the hearts of the people with the love of the Holy Prophet (PBUH).
Dr Hassan Mohi-ud-Din Qadri expressed these views while 113rd annual 'Tajdar-e-Khatam-e-Nabuwat Conference' in the renowned shrine of Golra sharif yesterday. Sajjad-a-Nasheen of the shrine Pir Sayyid Abdul Haq Shah, Pir Sayyid Ghulam Moin-ul-Haq Shah, MQI's Secretary General Khurram Nawaz Gundapur, Ahmad Nawaz Anjum, Sardar Mansoor Ahmad Khan, Ibrar Raza Advocate, Farooq Butt, Ghazanfer Khokhar, religious scholars, political and social notables and workers of MQI and PAT were also present on the occasion.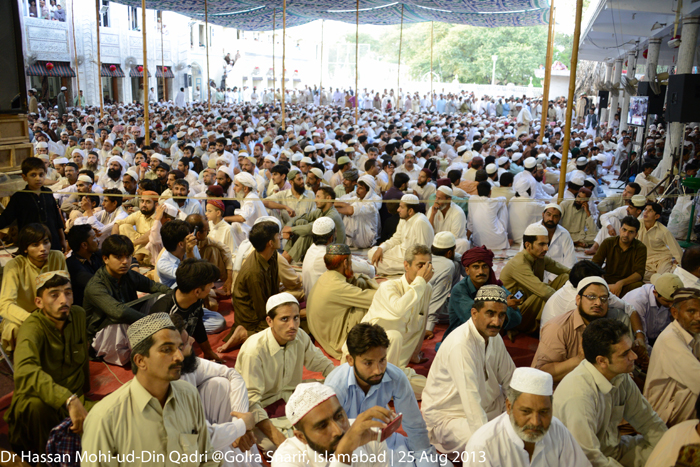 Mentioning a great event from the life of Sayyid Pir Meher Ali Shah regarding rejection of Qadiyaniyat, Dr Hassan Mohi-ud-Din Qadri said that 113 years had passed since the great event took place between the forces of truth and falsehood and faith in the finality of the Prophethood enjoyed ascendancy everywhere. Thanks to spiritual blessings and practical struggle of Pir sahib, he said that the Qadiyanis were declared as minority in the Constitution of Islamic Republic of Pakistan. He, however, added in the same context that their conspiracies had not ceased to exist even today. He advised the Muslims to forge unity in their ranks at every level to be able to face challenges to their creed successfully.
Earlier, when Dr Hassan Mohi-ud-Din Qadri reached Golra Sharif, the workers of MQI and PAT extended a resounding welcome amid thunderous applause and slogans.