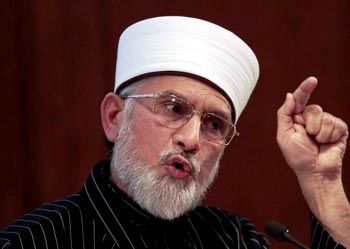 Dr Muhammad Tahir-ul-Qadri, the leader of Pakistan Awami Tehreek, has said that the present system is like a salt mine in which even jewel loses its identity after some time. He said that gulf between the people and fulfillment of their rights would continue to widen without change in the system. He said that PAT believed in theory of devolution and decentralization, adding that his party stood for converting every Division into a province. He said that creation of 35 provinces was the only durable solution of the problems facing the country. He proposed that each new province should be headed by a Governor and not chief minister whose budget should not exceed that of a Divisional Commissioner.
Dr Muhammad Tahir-ul-Qadri expressed these views while addressing the meeting of Central Working Council of Pakistan Awami Tehreek Punjab yesterday.
Dr Qadri made it clear that when 10 million 'namazis' would be ready, the 'jamat' would be led straight away, adding that the day would see the end of corruption, bad governance, and merciless plunder of national resources. He said that demographically smaller countries than Pakistan had between 50 and 80 provinces in addition to having 100 district and 3000 municipal governments. He said that the federal government should only have jurisdiction over six subjects such as defence, state bank, international trade, and currency.
Dr Tahir-ul-Qadri said that being Chief Minister of Lahore Division was not liked because it would reduce the chances of corruption as less funds would be available. He said that majority of political parties were afraid of struggling for change in the system, further saying that PAT would stay on the course and convert Divisions into 35 provinces. He said that one of the shortcomings of the present system is that transfers, postings and inductions were in the hands of the Chief Ministers and their relatives. He said that democracy could not flourish in countries where resources and powers were concentrated in few hands. He said that it was classic and gross example of mismanagement that transfer of even low official such as inspector, tehsildar and patwari was not possible without the orders of the Chief Minister. He said that concentration of wealth and powers always led societies to destruction. He said that membership campaign of PAT was for the sake of establishment of real democracy in the country.