Attended by women in large number, the Women Wing of Pakistan Awami Tehreek Lahore today organized a big demonstration at main Faisal town road to protest against incidents of rape against 5-year old girl-child in Lahore and other girls in Faisalabad and Toba Tek Singh. The women condemned these heart-rending incidents in the strongest possible words and described them as a blot on the collective conscience of the society.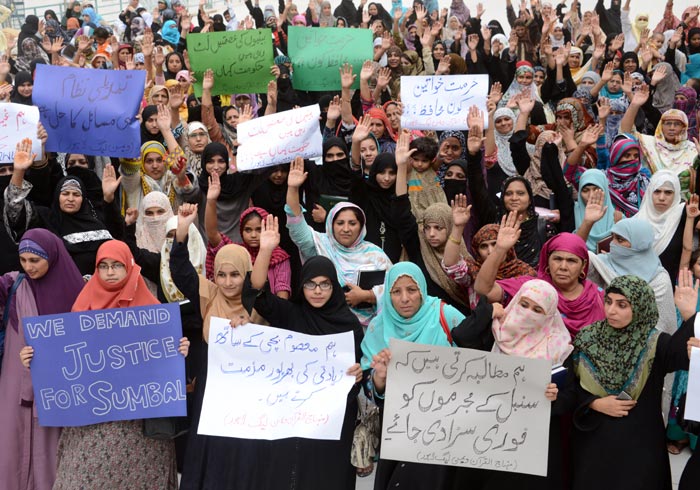 Addressing the demonstration, President of Women Wing's Lahore chapter, Mrs. Irshad Iqbal said that these incidents of maltreatment of the girls reflected a picture of decaying moral values in the society. She said that even the innocent girls and kids were not safe from the long hands of beasts who wore the garb of humans and went about doing evil things with abandon. She said that the government failed to put an end to such atrocious happenings, adding that recurring nature of these incidents showed in manifest terms the decomposed and degraded social and moral order of the society.
The President of Women Wing (Lahore) said that it was responsibility of the government to ban immoral and unethical content on the internet and the concerned Ministry should be handed down the task of monitoring internet traffic. She said that blocking of a few pornographic websites would not solve the problem. She said that the youth was our future and it was incumbent upon the government to take every possible step to save them from possible harm. She demanded of the Parliament to approve stringent legislation in this regard so that such incidents could be checked and the country's name should not be brought into disrepute.
Mrs. Irshad Iqbal said that we claim to be followers of a religion that conferred rights and honour on the women about 1500 years ago, adding that our actions were contrary to what Islam stood for as far as women's rights were concerned. She demanded of the government to apprehend all those who perpetrated these crimes and bring them to justice at the earliest. 'If the beasts involved in these crimes are made an example of, such incidents can be stopped from happening through strong deterrence, she added. Mrs. Razia Naveed, Ayesha Shabbir, Sajida Sadiq and Farida Sajjad also spoke on the occasion.