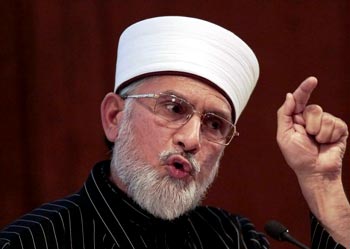 Dr Muhammad Tahir-ul-Qadri, leader of Pakistan Awami Tehreek, has said that Pakistan's territorial and ideological frontiers are confronted with grave threats that have emerged from terrorism, extremism and so-called democracy. He said that the exploitative and corrupt political system had terribly disappointed the nation. He said that the spirit of Pakistan's Ideology had been weakened. He said that the current system had become outdated as it could not protect the interests of any section of society. The people should place their trust in Pakistan Awami Tehreek and join its ranks in their hundreds of thousands. Change is bound to come when people are ready to play their role in this movement, he maintained.
Dr Tahir-ul-Qadri expressed these views while talking to office holders of PAT (Islamabad chapter). Khurram Nawaz Gandapur, Bishrat Jaspal, Sardar Mansoor, GM Norani, and Umar Riaz Abbasi were also present.
Dr Qadri said that 180 million people were victims of lawlessness, terrorism, inflation, and injustice. He said that people should support PAT for restoration of their rights. He said that it was not time to sit at home and grieve over the worsening state of affairs, adding that it was time to act and play one's role in changing one's destiny through peaceful and democratic struggle. He said that if we did not do anything at this crucial juncture, the coming generations would not forgive us. He said that his mission was to restore rights of the downtrodden section of society including labourers, farmers, and the poor, further saying that if the masses supported him on his agenda of change, better days would surely come.