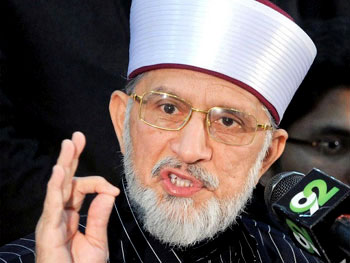 Dr Muhammad Tahir-ul-Qadri, the leader of Pakistan Awami Tehreek, has declared to hold countrywide protest rallies from December 29 onwards against the skyrocketing price hike and plunder of drug and corruption mafias under the patronage of the government. PAT would take out rallies on December 29 in Lahore, on January 5 in Rawalpindi, on January 12 in Karachi and on January 19 in Peshawar.
Dr Tahir-ul-Qadri made this important announcement while addressing a meeting of Executive Council of Pakistan Awami Tehreek through a video link yesterday. Khurram Nawaz Gandapur, Bishrat Aziz Jaspal, GM Malik, Qazi Faiz ul Islam, Jawad Hamid, and Ch Afzal Gujjar, were also present on the occasion. He said that drones should be shot down as stoppage of Nato supplies would not produce any result. He said that Pakistan's national interest was supreme and must be upheld at every cost. He said that Pakistan had the capacity to shoot down drones.
Dr Muhammad Tahir-ul-Qadri said that the parliamentarians had got the economic incentive package extended to 'an investment of 50 billion rupees' from original 25 million rupees announced by the Prime Minister. He said that such a thing never happened in any other country. He said that tax evaders and corrupt mafia were being given unprecedented favours and privileges at the cost of honest tax payers, adding that no such robbery ever happened in Pakistan's history. He said that the robbers and industrial barons were being afforded an opportunity to whiten their black money through this incentive package.
Dr Tahir-ul-Qadri said that Pakistan had been sold in the hands of select families once again. He said that corruption won while the poor lost. He said that PAT would stop the plunderers and tax evaders from going ahead with their evil ways with the support of people of Pakistan.
Dr Tahir-ul-Qadri said that the United States was a friend of no one but loyal to her own interests. It could do anything or go to any limit to secure its interests. He said that fighting a war against anyone was out of question as it was sheer foolhardiness. He, however, added in the same breath that there should be no compromise on sovereignty of the country at all. He said that staying put for the protection of national sovereignty was need of the hour.
Dr Qadri further said that prayer of ten million 'Namazis' would soon be established for protection of sovereignty and stability and to rid the poor of the plunder of national resources that would lead to revolution. He said that protest rallies being organized by PAT would be attended by people belonging to various walks of life including the elderly, women and children. He said that it would be a people's protest.