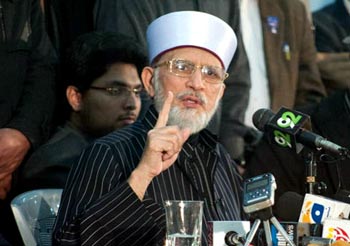 PAT leader Dr Muhammad Tahir-ul-Qadri has said that trial of General (r ) Musharraf is a personal vendetta, adding that if the ends of justice are to be met, the trail should have been carried out against his action of October 12, 1999. He said that judges, politicians who took allegiance at the hands of Mushrraf, and the present rulers who are protégé of the military dictator Zia-ul-Haq should also be proceeded against under Article 6 of the Constitution. He said that if martial law imposed by Gernal Musharraf was unlawful and ultra-vires, the same was also the case with the martial law of General Zia-ul-Haq. He said that all should be held answerable for their actions since 1999 without any discrimination. He further said that the revolutionary round of PAT struggle would both be final and decisive and there would be no point of return.
Dr Muhammad Tahir-ul-Qadri expressed these views while addressing Central Working Council of Pakistan Awami Tehreek here today. PAT Secretary General Khurram Nawaz Gandapur, GM Malik, Qazi Faiz, Bashrat Aziz Jaspal, Jawad Hamid, Razia Naveed and others were also present at the occasion.
Dr Tahir-ul-Qadri asked the nation to distinguish between truth and falsehood, adding that difference between both is that the liars would resort to slander, character assassination and raise baseless allegation, while the true people would promote an ideology and an agenda of larger public good. He said that PAT's struggle was not akin to other movements of extremist groups, adding that revolution by PAT will be peaceful and within democratic, political and constitutional norms. He said that if anyone fired on the peaceful protestors, my workers and I would not be provoked into reaction. He said that we would be ready to lay down our lives but would not pick up arms.
Dr Tahir-ul-Qadri said that he was a firm believer in democracy and elections but added in the same breath that his party would not allow the conduct of elections on the basis of rigging and corrupt practices. He said that he would introduce a system in line with the Articles 3, 9, 38 and 40 of the Constitution of Islamic republic of Pakistan. He said that we would implement the Constitutional guidelines that transferred power to their legitimate stakeholders, the people of Pakistan. He said that we would change the system peacefully and democratically with the help of people's power.
Dr Qadri said that the judiciary was a sacred organ of the state in accordance with the Constitution of Pakistan. He said that we would ensure that post-revolution, the role of politicians to influence the working of judiciary is eliminated and the latter is placed on the highest pedestal of respect it is entitled to under the Constitution.
Dr Qadri said that PAT and PTI could come together, adding that contacts continued between PTI chairman Imran Khan and himself and both would meet soon. He said that both parties had unanimity of views on national issues and were inching closer to each other. He said that we wanted to work out a course of action for the future that would lead to shared goal and there is no difference of mechanism.
Dr Tahir-ul-Qadri said that Imran Khan and his workers wanted change and were struggling for the same, whereas PAT was founded to bring about change and peaceful revolution. He said that if both parties got together, it would be a natural alliance. He said that the supporters of terrorism and extremism could not become our allies. He said that he was opposed to Mullahism and extremism and wanted a modern, moderate and democratic Pakistan.
Dr Qadri said that socio-economic justice, restoration of rights of the poor, and change of system constituted the shared agenda between PAT and PTI. He said that both parties were coming closer on this agenda and God willing, they would be playing on the same pitch.