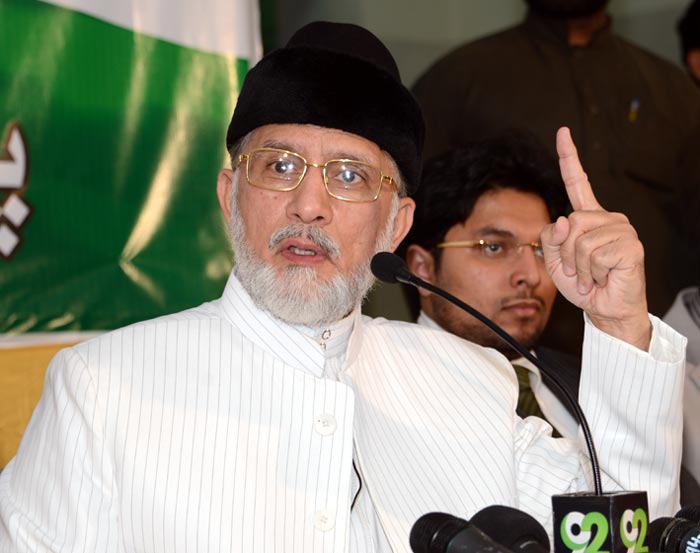 PAT leader Dr Muhammad Tahir-ul-Qadri has described the ongoing wave of target killing throughout the country particularly in Quetta as both shameful as well as regrettable. He said that sectarian terrorism began during early 1980s and it had been three decades since this form of terrorism had taken a heavy toll on innocent lives and undermined law and order and security of the country. He said that what was even more dreadful was the emerging nexus between sectarianism and terrorism with a lethal potential to harm the country, adding that both were closely intertwined now for want of effective executive action to take them out.
Dr Tahir-ul-Qadri made these remarks while addressing a meeting of Minhaj-ul-Quran Ulama Council at the central secretariat of MQI through a video link yesterday. Allama Syed Farhat Hussain Shah, Allama Imdadullah Qadri, Allama Asif Akbar Mir, Allama Muhammad Hussain Azad, Allama Mumtaz Saddiqi and Allama Usman Sialvi were also present at the occasion.
Dr Tahir-ul-Qadri said that positive political mindset and vision were required to resolve the problems. He said that when the so-called democrats had requisite powers, control on law enforcement agencies and access to all kinds of information, nothing remained hidden from their purview, provided they had the will and determination to take on the sectarian and terrorist outfits. He said that these terrorists were trained and groomed under the patronage of General Zia-ul-Haq when weapons, dollars and poisonous ideology were given an easy access to the country and its youth. He said that the religious parties that got franchises of Jihad at that time were dubbing terrorists as 'martyrs' and shied away from conferring the title of martyrdom on the members of the armed forces who were fighting against terrorists.
Dr Tahir-ul-Qadri said that the federal interior minister would give a run of the mill statement to the media after every incident of terrorism that a foreign hand was behind terrorism. He said that terrorist elements could not make a state within a state without the tacit approval of the government. He said that such rulers who did not have the courage to eliminate the terrorists playing havoc with the life and property of the citizens of Pakistan did not have any right to rule.
Dr Qadri revealed that 4500 terrorists were apprehended between 2008 and 2013 but none of them was hanged, asking as to what else it was if not the official patronage. He said that the courts freed 2432 terrorists while whereabouts of 1195 terrorists were not known and another 1032 were being searched. He said that it all totaled up to this that all of them were given free hand to make good with their escape in one way or the other. He said that 63 terrorists were in jails but their cases were not being taken up before the courts of law, adding that they would also be let off the hook for want of credible evidence etc.
He said that there was a serious problem with the relevant law of the land which did not result in arrest, conviction and meting out exemplary punishment of terrorists, further saying that those lording over the fate of the nation without any vision or statesmanship were not entitled to stay in power.