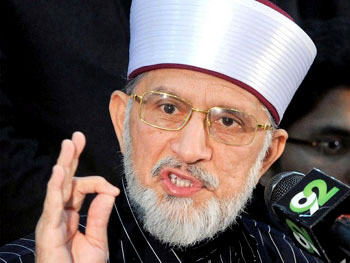 Pakistan Awami Tehreek leader Dr Muhammad Tahir-ul-Qadri has said that these are the people who would bring about revolution in the country. He said that loan defaulters, tax dodgers and corrupt elements sitting in the legislatures were beneficiaries of the incumbent system and had little interest in changing it. He said that politics and trade were intertwined in the country today with the result that one is indistinguishable from the other as they complemented each other. He said that the so-called democrats were blot on the face of democracy, adding that the people at large were the principal affectees of the status quo and revolution was their need, not that of the privileged elite. He said that those who did not have access to basic necessities of life such as education, health and job opportunities, bright future for their children and lack of security of life and property were geared towards bringing about revolution.
Dr Muhammad Tahir-ul-Qadri expressed these views while talking to a delegation of Pakistan Awami Tajar Ittehad through a video link from Canada at the central secretariat of PAT. Haji Muhammad Ishaq, Sultan Chaudhry, Hafiz Ghulam Farid, raja Nadeem, Ch Afzal Gujjar, and a large number of representatives of the trader community were present on the occasion.
Dr Qadri said that PAT's revolution would be solely people-driven and would not have anything to do with agenda of any foreign power. He said that none would be in a position to dictate him. He said that our revolution would be peaceful from the beginning to the end and not even a single drop of blood would be shed. He said that the system of elections had been hijacked in the country and was no more a means to bring about change. He said that revolution would come through people, not elections.
Dr Tahir-ul-Qadri said that he would give a new system to the nation after changing the incumbent system through peaceful, democratic and constitutional struggle, adding that the new system would not have any space for duress, hooliganism, rigging and show of brute force. He said that the new system would ensure sanctity of judiciary and other institutions.
He said that he guided the nation for last 33 years without coming into power, adding that every child of the country knew Tahir-ul-Qadri. He said that the nation loved him from the core of their heart and was ready to render any sacrifice on his call. He said that irrespective of wherever he lived physically, his heart lay in Pakistan. He said that his patriotism was greater than those who looted this country mercilessly. He said that those who spared no effort to criticize him lived in Pakistan but their assets, bank balances and future were outside of Pakistan. He said that he would soon come to Pakistan to make the motherland realization of the Quaid-e-Azam's dreams.
Dr Muhammad Tahir-ul-Qadri said that whether he spent time in UK, the US, Canada, and Saudi Arabia, he divided and dedicated his time for the Muslim community. He said that had people been opposed to his stay abroad, they would not have come to the streets in their hundreds of thousands on his call in Lahore on December 29. He said that overwhelming presence of people belonging to all walks of life in the protest rally was indication of their unstinted support for his agenda of change. He said that those elements objected to his stay abroad and made a mountain out of molehill who did not know how to argue on the basis of reason and logic. He said that millions of people would come out when he would give the call of revolution.