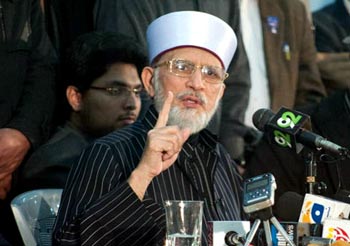 Pakistan Awami Tehreek leader Dr Muhammad Tahir-ul-Qadri has said that if the state enters into a dialogue with the terrorists on the basis of equality, it will be incompetence and failure of the government. He said that if the terrorists laid down their arms first, adopted peaceful path and put forward demands in the form of dialogue, it was responsibility of the government to listen to them. He said that rightful demands should be accepted while unjustified ones should be rejected. He said that conducting negotiations with the terrorists before breaking their back was not in accordance with the Holy Quran and Sunna. He, however, added in the same breath that unfortunately the rulers and politicians did not adopt this approach prescribed by the Holy Quran and Sunna.
Dr Tahir-ul-Qadri expressed these views while addressing an important meeting of Minhaj-ul-Quran Ulama Council through video conference at the central secretariat. Allama Syed Farhat Hussain Shah, Allama Imdadullah Qadri, Allama Mir Asif Akbar, Allama Muhammad Hussain Azad, Allama Mumtaz Saddiqui, Allama Ghulam Asghar Saddiqi, Allama Usman Sialvi, Allama Latif Madni and others were present at the occasion.
Dr Tahir-ul-Qadri said that if negotiations with the terrorists were to be held, why had the thieves, robbers and killers been put behind the bars and why were they being prosecuted in the courts of law? He said that dialogue should also be conducted with them, adding that the entire legal and judicial system should be done away with them and all issues should be settled through dialogue. He said that it was all right to hold dialogue but there should be proper time and manner of holding it. He said that the power of robbers, aggressors and rebels should be broken first, compelling them to accept the writ of the state, adopt peaceful path and resort to talks by laying down arms.
Dr Qadri said that the terrorists had occupied parts of the country and created state within the state. They had killed thousands of innocent people including personnel of security forces and still continued on the killing spree. The people of Hazara community had been staging sit-ins along for many days on end with the dead bodies of their near and dear ones killed by the terrorists. He asked as to what was the crime of these people and what they were being punished for? He said that public places, Mosques, Imambarghs and security forces were being attacked with abandon and the people were being slaughtered mercilessly. He said that there was no doubt about the fact that the terrorists wanted to get their demands accepted through use of brute force and power. He said that the government's decision to hold talks in these circumstances reflected weak point of view and lack of firm resolve.
Dr Tahir-ul-Qadri made it clear that those who insisted on the option of talks with the terrorists were in fact protecting them and supporting their philosophy. He said that those who indulged in terrorist acts were no martyrs, rather they were miscreants and mischief makers who worked on the agenda of their financers. He said that these terrorists wanted to undermine the nuclear status of this country.
Dr Qadri said that there was a particular segment of the Ulama in Pakistan who did not take a clear stance on terrorists by making confused statements and shifted the entire blame on the US. He said that new issues were raised in a manner that the real problem and questions about conduct of the terrorists were left behind. He said that the purpose behind this deliberate campaign was to keep the nation confused.
Dr Tahir-ul-Qadri said that there was no denying the importance of talks in principle but it was the question of how and when and from position of strength or weakness. He said that the people had been divided along the ideological lines and confusion was created in this manner. He said that we should neither be slave to the US nor should we go to war with it, adding that we should not compromise upon our independence and sovereignty. He said that religious figures collected dollars and dirhams in the name of preaching. He said that as long as foreign money continued to flow into Pakistan, terrorism would continue.