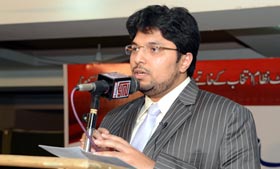 Dr Hussain Mohi-ud-Din Qadri, President of PAT's Federal Council, has said that there is a need to go beyond cosmetic steps such as holding of public rallies and traditional pronouncements on the Kashmir issue and spell out a robust, integrated and proactive Kashmir policy. He said that peace in South Asia could not be established on sustainable basis unless resolution of the disputed Kashmir issue was found out to the satisfaction of the people of Jammu and Kashmir in line with the resolutions of the United Nations. He said that India committed itself to implementation of the UN resolutions and should, accordingly, stop wavering under this and that pretext, adding that right to self-determination was the fundamental right of the Kashmiris.
Dr Hussain Mohi-ud-Din Qadri said that dialogue was the only option available to Pakistan and India as wars did not offer any lasting solution to the problems. He said that the leaderships of both countries should find negotiated settlement of all disputed issues including the core issue of Jammu and Kashmir. He said that the South Asian region possessed immense potential which needed to be unlocked provided both Islamabad and New Delhi could manage to resolve their bilateral issues. He said that terrorism, poverty, underdevelopment, unemployment and extremism were the common enemies of people of South Asia and concerted efforts were required to be made to get rid of them.
Dr Hussain said that both countries should interact with each other like good neighbors, and foster mutual confidence. He asked India to stop its policy of human rights violation and review its regional policy in the interest of peace and stability in South Asia. He also asked the government of Pakistan to highlight the atrocities being committed in the held Kashmir by the Indian forces at the global level in an attempt to mobilize international opinion for solution of the Kashmir dispute.