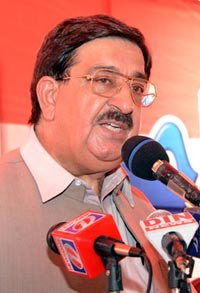 Pakistan Awami Tehreek (PAT) Secretary General Khurram Nawaz Gandapur has said that following the recurring practice of hike in power tariff every now and then, the people will have to bear additional burden in the form of inflated electricity bills, adding that increase in electricity rates would be instrumental in bringing about fresh surge in price hike. He said that what to speak of the poor, even the middle class was finding it hard to cope with the strain and stresses of life due to inflation and price hike. He said that recent raise in power tariff was like a bomb shell for the poor and downtrodden sections of society; further maintaining that it was tantamount to gross injustice and an outcome of anti-people policies.
PAT Secretary General expressed these views while addressing a meeting of PAT held in Lahore on Thursday. Sheikh Zahid Fayyaz, GM Malik, Sajid Bhatti, Jawad Hamid, Qazi Faiz ul Islam, and Hafiz Ghulam Farid were also present at the occasion.
Khurram Nawaz Gandapur said that instead of decreasing the power tariff, which was already quite high, the rulers had rendered people's lives more miserable by ordering an increase in it. He said that the people's pockets were being attacked through such increases. He said that people would have to take to streets for restoration of their rights and launch a peaceful and democratic struggle. He said that flaws of corrupt electoral system were appearing in crystal clear terms, adding that if the people wanted to avoid serious implication of the situation, they would have to support the vision of Dr Tahir-ul-Qadri.
PAT Secretary General said that people's incomes were falling down, while the cost of living was increasing manifold thereby increasing social disharmony etc. He demanded of the government to withdraw recent hike in power tariff as the people could not afford this raise in any manner.