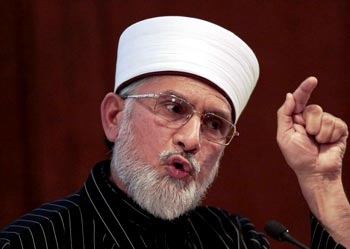 Pakistan Awami Tehreek leader Dr Muhammad Tahir-ul-Qadri has said that the government of Pakistan and the armed forces should not become a party on the issue of Syria at any cost. He asked the government to refrain from selling the country's sovereignty for dollars, adding that the people would react very strongly if the government did so. He said that money was not that important. He further said that Pakistan should not fall prey to wishes of some countries. He said that blot of any kind on impartiality of the armed forces and Pakistan would not be tolerated at any cost. He asked the government not to entertain any such thought, otherwise it would have to suffer from incalculable loss in diplomatic terms. He said that no ruler could be allowed to sell the country's sovereignty and integrity in return for personal favours. He said that the armed forces of Pakistan were pride of the entire Muslim community and their neutral role should remain intact.
Dr Tahir-ul-Qadri expressed these views while addressing a meeting of executive council of Pakistan Awami Tehreek telephonically.
Dr Qadri said that Pakistan was such country that did not have any permanent foreign policy, adding that it had always been run on dictation from other countries. He said that it was tragic that successive government failed to determine any foreign policy direction of the country. He said that every government had been working out broad contours of temporary foreign policy to serve the tailor-made objectives of getting into power, retaining it and nurturing personal relations and this tragedy had been happening for last 66 years.
Dr Tahir-ul-Qadri said that the terrorist groups from the entire world had been facilitated to shift to Syria and the opinion of big powers and major Islamic countries of the world were divided on the matter. He said that if Pakistan could not play any reconciliatory role for restoration of peace in this situation, it should at least continue to stick to its neutral stance. He said that the government's talk of eliminating terrorism from the country and its logic to support terrorism in other countries was not understandable.