PAT to hold countrywide protest demonstrations on May 11
Rulers inching closer to their permanent political demise
No solution to raging problems except revolution
People are dying of starvation while their so-called representatives getting inflated pay cheques
Dr Tahir-ul-Qadri addresses press conference through video link
Pakistan Awami Tehreek leader Dr Muhammad Tahir-ul-Qadri has announced to hold countrywide protest demonstrations throughout the country on May 11, adding that he will give a course of action for revolution on the same day. He said that the rulers were not representatives of the state but political face of the terrorists who were heading towards a permanent end of their rule. He said that if they got six more months in power, the country would be so destroyed that it would not be possible to bring it back on track. He said that the rulers were pocketing billions of rupees through so-called privatization in the guise of talks with the Taliban and the Pervez Musharraf trial. He demanded that treason case should be initiated to cover the military takeover on October 12, 1999. He said that at a time when the members of Parliament were getting hefty pay cheques, the poor were being grinded by massive price hike, corruption, unemployment, lawlessness and terrorism. He said that there was no solution except revolution.
Dr Tahir-ul-Qadri stated this while addressing a press conference through video link from Canada.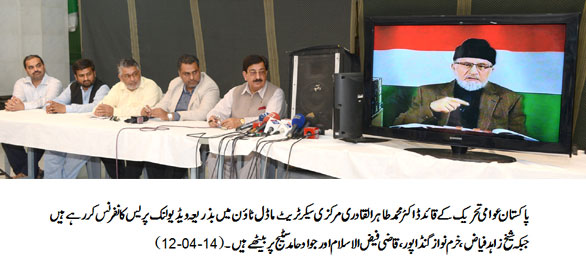 Dr Qadri said that the terrorists gave protection to the present rulers during electoral process and now the latter were reciprocating the gesture by establishing a safe zone. He said that death held sway in Thar and the millions of families had been facing Thar-like situation in the country. He said that while the people were dying of starvation, the ruling elites in Sindh and Punjab were holding Cultural and Youth Festivals with a view to deceiving the masses. He said that the Pervez Musharraf case was reflective of personal bias, adding the script to undermine the morale of the armed forces seemed to have been dictated from abroad. He said that present rulers had their massive investments of $10 billion in a dozen of countries in the form of mills, super markets, plazas and business concerns and they were dreaming to become Tats and Burlas of Pakistan.
Dr Tahir-ul-Qadri said that the government did increase salaries, perks and privileges of its members but pushed the masses in the abyss of inflation, price hike, unemployment, poverty, corruption and lawlessness. He said that the appointment of blue-eyed and favourite people in the top positions of the state-owned entities had given a new lease of life to corruption and plunder of resources. He said that rulers wanted personal loyalty from every office holder in the land and gave a damn to resolution of issues facing the masses.
Dr Qadri said that today's rulers had perpetuated a reign of corruption by establishing partnership with those whom they claimed to drag on roads. He said that ruling elite of Pakistan had stashed their wealth in oversees countries through tax evasion, plunder of national resources and by pushing the youth into unemployment. He said that those who never tired of the Constitution were product of dictatorship themselves. He said that if a case of the Constitution's suspension were to be initiated, it should be started from October 12, 199 and all those who played a role in any manner should be tried through a fair trial. He said that all those judges who put their seal of approval on suspension of the Constitution and all politicians who legitimized the military takeover should be held accountable for their actions. He demanded that 'a politician-judge' who twice took oath of office at the hands of Musharraf should also be tried in the court of law.
Dr Muhammad Tahir-ul-Qadri said that the talks with the Taliban were a fraud, adding that talks with those who killed over 50,000 innocent citizens and security personnel were akin to betraying the people's sacrifices. He said that release of terrorists over and above due process of law should be explained to the people. He said that one glaring example of the rulers' interest in the affairs of state was that over a dozen key positions of Pakistan High Commissioners and Ambassadors were vacant, waiting to be filled through appointment of loyalists. He said that the corrupt rulers wanted to establish family dynasty which was manifest from the fact that about twenty close family relatives were running the government in different capacities.