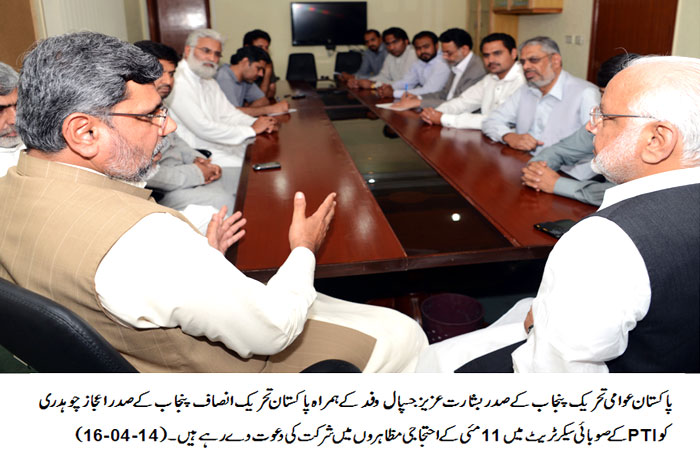 Basharat Aziz Jaspal, President of Punjab chapter of Pakistan Awami Tehreek, has said that the government has completely failed to provide basic necessities to people such as education, health, employment and peace. He said that the personal businesses of the powers that be had been growing by leaps and bounds while the poor were facing starvation. He said that the 11th of May was a day of 'death anniversary' of elections, adding that the people had been suffering from disappointment and depression after the May elections. He said that the courts that had been taking suo moto notices on even petty matters did not take any notice of an electoral process that adversely and gravely affected the future of the country. He said that Pakistan Awami Tehreek and Dr Tahir-ul-Qadri were busy in creating unity and harmony among the institutions and the people.
Basharat Aziz Jaspal expressed these views while talking to President of Pakistan Tehreek-i-Insaf Punjab Ijaz Chaudhry in a meeting held at the provincial secretariat of PTI yesterday. Fayyaz Warriach, Mian Abdul Qadir, Chaudhry Zulifqar Advocate, Mushtaq Nonari Advocate, Raja Zahid, Raja Nadeem, Abdul Hafeez chaudhry and others were also present at the occasion. He invited the PTI to take part in the protest demonstrations being held under the banner of PAT on May 11, adding that it was our desire that we should collectively steer the nation out of darkness and collective depression. He said that the Pakistani people were stuck in a quagmire and both parties needed to work jointly to bring them out of it.
The President of PAT Punjab asked PTI to support revolutionary agenda of Dr Tahir-ul-Qadri. He said that the only way leading towards progress and prosperity of the masses was to reject the incumbent system and bring about green revolution. He said that the rulers had bucked up the terrorists by demoralizing the armed forces.
Speaking at the occasion, President of PTI Punjab Ijaz Chaudhry said that PAT had taken an initiative to deliver an invitation and love like before. He said that PTI chief Imran Khan agreed to the views of Dr Tahir-ul-Qadri and had said to this much effect a number of times during his TV interviews. He said that both the people and the country were bearing the brunt of 'punctured and rigging-based' elections in the form of load-shedding, terrorism and unemployment. He said that Pakistan Tehreek-i-Insaf fully supported political struggle of Dr Tahir-ul-Qadri and PAT.
PTI Punjab President thanked PAT leadership for extending an invitation. He said that a consultation meeting had been convened on April 19 in which decision on the PAT invitation for attending the demonstrations would be taken and a course of action would be determined. He said that the PTI response would be positive, adding that it would be their endeavor that both PAT and PTI joined each other to hold collective demonstrations on May 11. He suggested that both parties should launch a series of protest for implementation of all clauses of Articles 62 and 63. He said that PTI chief Imran Khan was out of country and the day he came back, he would hold meetings with the leaders of Pakistan Awami Tehreek.