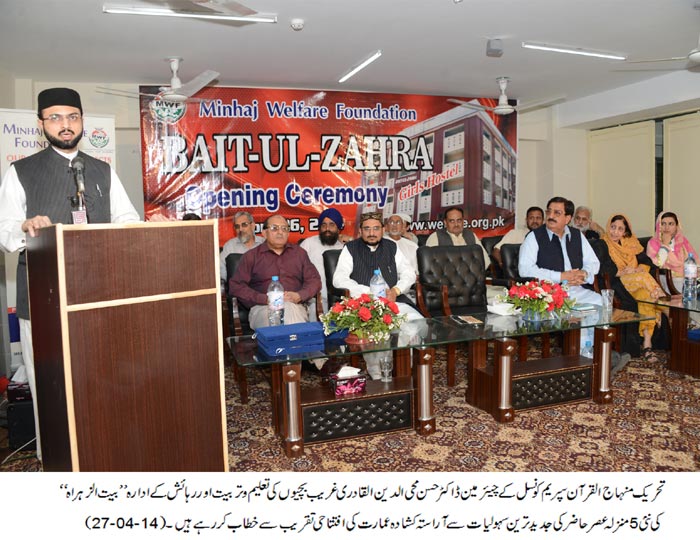 Dr Hassan Mohi-ud-Din Qadri, President of the MQI Supreme Council, has said that when the system of the humanity's well-being, respect and training would come into being, it would lead to revolution. He said that Minhaj Welfare Foundation had been working tirelessly in the service of the suffering humanity without any discrimination of caste, creed, colour and race. He said that Dr Tahir-ul-Qadri had instituted a system of welfare in such a manner that people's self-respect did not get hurt. He said that the establishment of 'Bait-uz-Zahra' for the residence, upbringing and education of the poor girls after the establishment of Orphan Care Home 'Aagosh' was reflective of Tahir-ul-Qadri's vision of a welfare state. He said that Dr Tahir-ul-Qadri wanted establishment of such a prosperous society where the help of the poor and less privileged sections of society should be carried out as their duty and our duty.
Dr Hassan Mohi-ud-Din Qadri expressed these views while addressing an inaugural ceremony of 5-storey building of 'Bait-uz-Zahra' a building having state of the art residential, and educational facilities. Secretary General of MQI Khurram Nawaz Gandapur, Director Minhaj Welfare Foundation Amjad Ali Shah, President MWF Europe Hafiz Iqbal Azam, Brig. (r ) Iqbal Ahmad Khan, GM Malik, Adnan Javed, Faiz Alam, Jawad Hamid, Ghulam Murtaza Alvi, Dr Samar Fatima, and Mudassara Jafer were also present at the occasion.
Dr Hassan Mohi-ud-Din Qadri said that big buildings got constructed in the world but lost their existence with the passage of time. He said that some people constructed some buildings which might get eliminated physically but the ideology of their constructors would remain alive. He added that the building of Bait-uz-Zahara had been constructed under the same philosophy and ideology.
Speaking on the occasion, Khurram Nawaz Gandapur said that Minhaj Welfare Foundation would establish such welfare institutions as 'Aagosh' and 'Bait-uz-Zahra' throughout the country. He said that land had been acquired in a number of cities for this purpose. He said that in the presence of such institutions, a society would emerge on which the people would take pride. The office holders of Minhaj Welfare Foundation were give shields in recognition of their hard work.