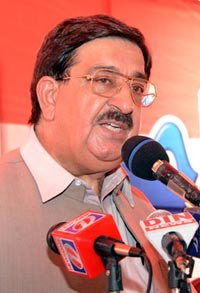 PAT Secretary General Khurram Nawaz Gandapur has congratulated the workers of PAT and the people of Pakistan on holding the most successful and organized protest rallies in over 60 major cities of Pakistan on May 11. He termed the mass participation of the people in such large numbers as a giant step forward towards revolution. He also thanked various organizations, political and religious parties, representatives of lawyers, civil society organizations and rights bodies for attending the PAT demonstrations and expressing their solidarity with the people of Pakistan.
PAT leader said that the looters would flee when the prayer of revolution would be established. He said that the Quaid-e-Azam was a great exponent of rule of law and supremacy of Constitution, adding that PAT would rebuild Pakistan in the light of teachings of the country's founder. He said that peaceful protest rallies against corruption, price hike, unemployment and lawlessness on May 11 were continuation of our peaceful struggle spanning over last 34 years. He said that the PAT struggle would continue till the change in the corrupt system and replacement of corrupt rulers with truly representative and honest ones.
Khurram Nawaz Gandapur said that it was through implementation of the Constitution in letter and spirit that Pakistan could be given honorable, prosperous and bright future. He said that we would not rest till the implementation of governance model presented by Dr Tahir-ul-Qadri and our struggle had got underway for the same purpose. He asked the workers to step up their preparations for revolution. He said that hundreds of thousands of people attended the PAT rallies, adding that flood of revolution would rise soon and sweep away plunderers and the corrupt.